Best and Worst Dressed at the Oscars
Hang on for a minute...we're trying to find some more stories you might like.
It seems like every time the Oscars roll around, the only things people seem to be talking about afterwards are the gowns and suits that were worn on the Red Carpet. Everyone has a different opinion, from "too bland" to "too risky," but I have rounded up some of my personal favorites and hate-its from the 2018 Oscars.
Gal Gadot




This "Wonder Woman" star was seen wearing a 1920's flapper-inspired dress. The metallic fringe and plunging neckline might not work on everyone, but Gadot completely rocked it.

Chadwick Boseman


Wakanda forever! The breakthrough Marvel actor who starred in "Black Panther" was one of my personal favorites. Boseman's silver embellishments took a twist on a classic black tux.


Geta Gerwig


Gerwig has already made history by being the fifth woman nominated for her endeavors in cinematography, as Best Director for "Lady Bird." Gerwig also made it onto my personal favorites by sporting a bright yellow Rodarte gown. This simple slip dress was completed with a red lip for a timeless look.





Saorise Ronan


The leading actress in "Lady Bird" was the definition of tastefulness in her sleek, blush pink Calvin Klein dress styled up with drapery in the back. Her crisp, short bob completely made the look and gave Ronan a perfect balance of youthfulness and elegance.





James Ivory




Perhaps the wittiest ensemble on the carpet, the "Call Me by Your Name" director sported a simple tux with a picture of the leading actor in his movie, Timothee Chalamet, printed onto his shirt. Andrew Mania, the British artist behind the masterpiece, is getting recognition for such a clever piece that got everyone watching the Oscars talking.




Unfortunately,, there were some risks taken at the Oscars that had less-than-successful results. Here are five outfits  from the Oscars that personally made me cringe.
Zendaya




The now grown-up Disney star wore an overall shapeless brown dress, in attempt to recreate the look of a toga. While Zendaya is an acclaimed actress with bold fashion choices, this look was one in particular that won't be starting a trend anytime soon.




Emily Blunt




To put it bluntly (pun intended), Emily's dress resembled a prom dress gone wrong. The periwinkle tone, tulle shoulder pads, and awkward lace trimming distracted the viewer from Blunt's sleek updo and gorgeous earrings.

Emma Stone




As much as it saddens me to put my favorite "La La Land "actress on this list, her wine colored jumpsuit was a mess that cannot go unrecognized. Granted, the idea was there: a bold change from the usual gown. But everything from the hot pink bow around the waist to the black silk pants makes this look a La La Lose.

Nicole Kidman




Kidman's royal blue gown is almost rule number one of what

not

to wear. In addition to the horrendous color, the massive bow and tall slit up the middle made this dress and overall poor choice.


Viola Davis


This critically acclaimed actress tops off my list of worst dressed in a barbie pink sparkly dress. While I always appreciate a nod to the 2000s, this endeavor went less appreciated.


While the Oscars are a time to be bold and take risks, only some outfits were visionary masterpieces, while others were wardrobe malfunctions.
About the Contributors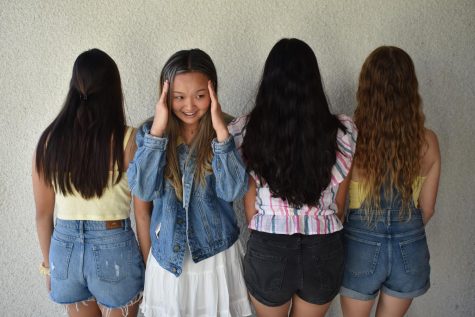 Emily Chang, A&E Editor