Urth Caffé: Pasadena
The latte art. The flowery yet rustic interior. The bold green font that arches around a cup of coffee. If you're a foodie like me, you've probably heard of Urth Caffé.
A true Californian café, Urth Caffé has multiple locations, including Beverly Hills, West Hollywood and Orange County. I drove around 40 minutes to its Pasadena location for lunch this past Friday. I knew the franchise is a hotspot for all age groups, but I didn't expect the place to be as crowded as it was at both the inside and outdoor seating area.
As you're standing in line to order, you will be tempted by the decadent display of desserts. Their tiramisus definitely caught my eye; they were the size of a stack of CDs and even included a matcha green tea flavor, which I started salivating for.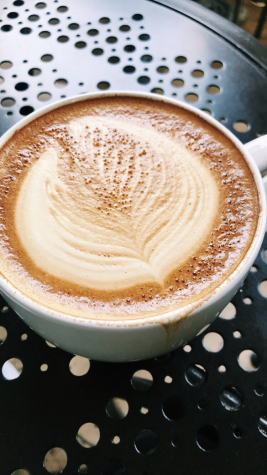 Min Ju Kang
I decided to suppress my sweet tooth and ordered the lunch items for my family: a D'lox pizza (add prices), chicken pesto sandwich, a  New York-style reuben panini and a side of vegetarian chili.
The food was nothing extraordinary, nothing unsatisfying. I'd highly recommend the D'lox pizza. Topped with salmon, dill and arugula, it reminded me of the salmon-lox bagels of the East Coast. It was a nice change to your average oven-cooked pizza, and the flavors of the dill and arugula paired perfectly with the texture of the salmon. The pizza came with a tiny platter of herbs, grated cheese, and some type of oil with chili flakes; I definitely recommend dipping the crust into the oil. Prices were acceptable for the portions.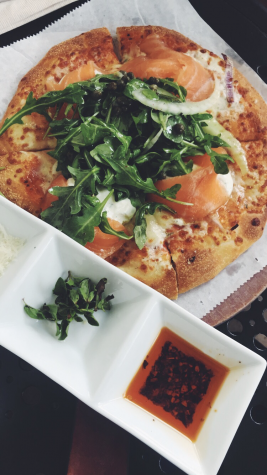 Min Ju Kang
My family also needed our caffeine fix, so we ordered the regular brewed hot coffee and honey café latté. They come out in huge mugs that helped give the restaurant a very cozy and homely vibe. I love plain black coffee (don't judge), and I enjoyed Urth Caffé's delicious dark roast. I took a sip of my mom's aesthetically-pleasing latté, and it was a tad bit too sweet for me. An entire mug of that would definitely fill me up.
Besides the food and drinks, Urth Caffé just had too many bees. I know, super random. It was pretty warm out; maybe it was the perfect climate for the bees to come out. One thing that's safe to say is that the bees were really annoying and took away the relaxing, Californian-esque dining experience. Bees were both inside and outside.
Overall, I recommend Urth Caffé if you're tired of the Urbane Cafe here in SCV. Just take a nice drive out to Old Pasadena, eat and shop. There's a nice strip of stores that are within walking distance, so you might as well treat yourself to both food and clothes! The menu is very diverse with American cuisine and vegetarian options, so there's something for everyone. Next time I go, I'll be sure to taste their desserts something I regret not doing on my first visit!