Wildcats and Dogs: Snowball
April 16, 2018
This is Snowball. He's a maltese and poodle mix whose hobbies involve duck-watching and sleeping. Four years ago, Snowball found his way into the heart of sophomore Ashley Pagsibigan — and he's been thriving ever since.
Snowball is now five years old, and his family has given him the nickname "circle dog" because his head takes the shape of a defined circle whenever he gets groomed. His owners also highly value the fact that Snowball is hypoallergenic, meaning that he doesn't shed. One of his favorite toys includes a stuffed grey baseball that he likes to chase. And when Snowball is out on a walk with his owner, he enjoys sitting by the lake near his house and watching the wildlife.
"He likes watching the ducks, but the ducks don't like him," says his owner Pagsibigan.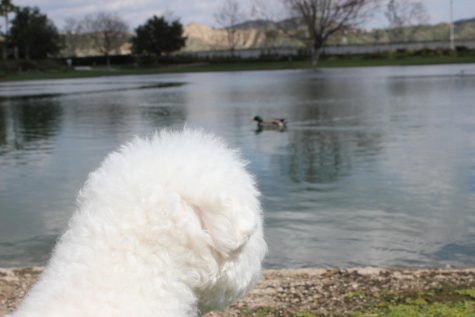 But whenever Snowball is in the mood to play, it isn't with other dogs. Pagsibigan says that "whenever other dogs try to play with him, he ignores them because he just doesn't care." However, he is more than happy to be playing with humans.
It was also evident that Snowball does not enjoy getting his picture taken. After many pictures of a very hyper Snowball, we were able to get him to calm down and pose for a few shots. And although Snowball is a playful pup, he can most often be found sleeping.
"He sleeps all day. He doesn't stop sleeping," said Pagsibigan.
Snowball's diet, however, is not like most dogs. This lucky pup gets the luxury of eating certain human foods.
"He is a spoiled dog. He eats steak, chicken or hotdogs. He eats a variety of meats, but most of the time he just eats kibble." said Pagsibigan.
Before he eats his special meals, Snowball likes to get massages from his owners. Pagsibigan even said that on some occasions, Snowball won't eat his food until his owners give him an encouraging pet.
"He's a high-class dog." said Pagsibigan.
Nevertheless, it's impossible not to love Snowball — especially when he's chasing the cape on his superman costume.