Luna Lee: Fashion Is My Passion
  Luna Lee is bubbly, bright and bursting with laughter, but above all, she is a senior who will be attending Parsons School of Design at The New School for Fashion Design. I watch Lee in awe, as she enthusiastically speaks of dreaming up own her own brand and to possibly creating a runway collection. At times, I grin, nodding in agreement, when she mentions Zendaya — both a fashion icon and an inspiring woman to all as a role model. What really rouses the spirit, though, is listening to Lee describe how she feels when thinking of fashion. When Lee exclaims, "I feel like I'm entering another world, and it gives me a feeling that I've never felt before," I can so clearly hear her passion seeping through her voice. In my eyes, Luna Lee is not just a senior, but a fashion designer ready to take on the world, and that brings me great hope for not only her future but those of the entire West Ranch student body. Read our full interview below to learn more of Lee's start in the fashion industry.
_________________________________________________________________________
Q: What school will you be going to, and why?
A: I am going to attend Parsons School of Design at The New School. It is the number-one fashion school, and it's been my dream to go there since I started art. It is located in the heart of NYC, and I'm so happy that my dreams are slowly coming true. Parsons is a "green college," because it is big on caring for the environment and sustainability, and this is one of the reasons why I want to attend this school.
Q: What major do you want to go into/are going into, and why?
A: I'm going into fashion design. I originally applied to fine arts, but I changed it to fashion.
Q: Why do you want to do fashion?
A: I wanted to start fashion, because I want to do work that will influence the world in positive aspects. And I thought being a fashion designer would be the perfect thing. [Also], I think fashion right now is really big right now, and the thing with fashion is that I think the world inspires fashion. The fact that it's constantly changing and that it's revolving around the world… that's a great thing, and I want to be a part of it.
Q: What are the aspects of Parsons that you really like?
A: The fact that they're really big about sustainability of the environment, and they're really big about how and what we do affects the environment, and they want it to be all healthy, all natural: I think that's really great.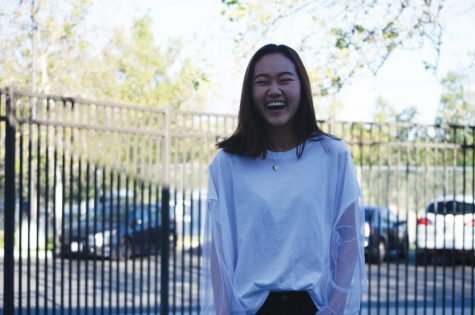 Q: How do you see yourself in 10 years? Describe.
A: Hopefully, I'll start my own brand and maybe do my own fashion show at Vogue or anything, so…  [she laughs].
Q: During your four years in high school, are there any experiences or events that led up to you wanting to become a fashion major? And do you have any fashion inspirations?
A: I think just social media in general inspires me. Fashion inspirations? My fashion inspirations are Bella and Gigi Hadid and also Kendall Jenner. I look towards Victoria Beckham, because I think she's really chic and all. Also, I bring in a little Korean fashion by looking at Jennie from Black Pink because I strongly believe my culture plays a big role in me. My role models are Emma Watson and Zendaya, because they're big on women's rights, and I believe that is a beautiful thing.
Q: When did you realize you want to be a fashion major?
A: I started thinking about doing fashion first semester of senior year. I realized it when I was thinking about the future; it was pretty late, like I decided to do fashion and art really late because I started junior year. I was never sure about my future until I came upon fashion. When I look at designer clothes or clothes in general, I feel like I'm entering another world, and it gives me a feeling that I've never felt before with anything else.