Alicia Zimmerman's Silhouette
Hang on for a minute...we're trying to find some more stories you might like.
At some point in your life, you have probably dreamed of being a singer. "Hannah Montana" marathons only strengthened your dream of standing on a stage and performing to a crowd of adoring fans.
For sophomore Alicia Zimmerman, her dream of making it as a singer is an actual reality. But this down-to-earth sophomore doesn't pursue singing in hopes of the fans and fame, but rather because singing is a limitless creative outlet unlike any other.
Alicia's passion for singing began as a young child, where she performed anywhere from karaoke machines to talent shows.
"Growing up I always knew that music was something I always wanted to pursue," said Zimmerman.
Alicia was immediately attracted to a form of self expression that has no boundaries. When asked about her instant love for singing, Alicia said, "I just find it so mind blowing to think that with all of the many singer/songwriters out there, there are always new melodies to be made and new lyrics to be written."
Singing is not the only talent that Alicia has. "I loved to pick up and teach myself how to play new instruments and then be able to throw together some lyrics to sing along to whatever I was playing," says Zimmerman.
Today, Zimmerman has grown leaps and bounds in her career. She has even released her first single on Spotify, Amazon, CD Baby and iTunes. "Silhouette" is a pop rendition on a soulful melody with R&B roots. Inspired by artists such as Billie Eilish and H.E.R, Alicia aimed for a raw track that stressed how "the colors of a person's heart overpower their appearance." "Silhouette" is also a personal statement for Alicia: "No matter what people might say, I will never be silenced. This is important for people who feel that they are only being depicted and seen by their outside visual — never let any words silence you."
The songwriting process was a labor of love for Zimmerman, with her first draft written all the way in her freshman year. As time went on, though, her vision for the song gradually shifted to a soulful feel. The idea of the role a silhouette plays in society today, however, remained central in every version. Meeting with her producer made this idea a reality. Alicia's producer specializes in pop, so the two ended up "meeting in the middle with a compromise for what we both think the song should sound like by adding elements of both genres within the song." The final product was a memorable piece that strikes the heart of every listener.
At the mere age of 16, Zimmerman has accomplished what many adults can only dream of. She is a young artist staying true to herself and making her mark on the world of music. Alicia is pursuing an empowering career. As she well puts it,  "Singing is something that I feel separates me from the crowd and makes me excited to be able to have this be a potential part of my future.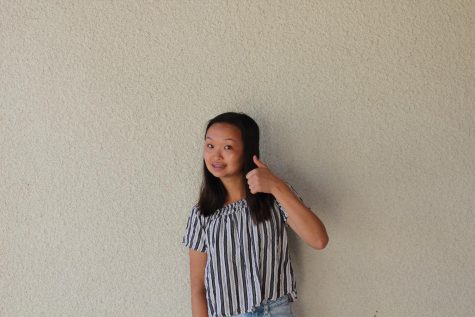 Emily Chang, Staff Writer
hi my name is chelea what's your favorite dinner food?