Juliette Gomez: The Makeup Magician
   Connecting over Kat Von D, listening to a walking, living, breathing example of passion itself: To interview senior Juliette Gomez was an awe-inspiring experience. Currently in cosmetology school and receiving a license in April, Gomez spoke to me about her upcoming plans (such as college), the evolution of her undying love for makeup, and what she hopes to achieve along the way. As I watched Gomez beam eagerly while discussing her dreams and be so full of spirit, all I felt was pride for our fellow Wildcat. At the end of the conversation, even I — someone who had met her just that day — was rooting for her, and I know that the rest of West Ranch is too. Read our full interview down below to learn more of Gomez's  bright future in the makeup industry.             _________________________________________________________________________
Q: Can you explain to me the ROP class that you are taking right now? How is the makeup school, and what it's like?
A: So yeah, it's an ROP class. Basically, it's cosmetology school, but the only difference is you're doing it in high school. So, you'll be able to get your license before you graduate high school, which is really cool. It's located in Granada Hills; it's called Newberry School of Beauty. I started last January, and that's basically it, you know. It's an opportunity for you to get your license before graduating high school, which most people would get after high school.
Q: What major are you planning to do in college, and why?
A: So, I'm planning on majoring in business, only for the reason that I can incorporate my license for the business degree and hopefully open up my own makeup line. Because that's what I think beauty could mix; that's why I started this ROP program just for that reason, you know, to hopefully mix the two together when I grow up.
Q: What college will you be going to, and if so, why that college?
A: I'm doing two years of community college, so two years at COC, and then hopefully transferring. I'm not sure where I want to transfer yet, but only for the reason that it's a lot cheaper. And I think schools for me — I mean, I feel like you are getting the same education wherever you go. It's a lot about the reputation the school gets. That's basically why.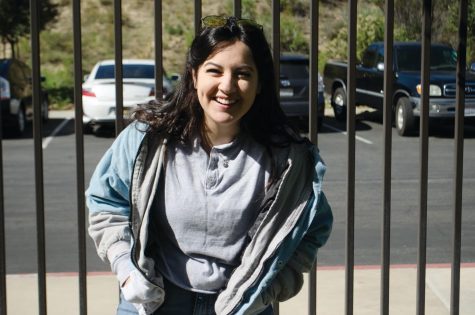 Q: When did you realize you wanted to open up a makeup line, and why?
A: So ever since I was little — I can't really tell you when exactly — I've always been super interested with make-up and anything beauty-related. It's funny, because no one in my family is like that. So, I couldn't have gotten it from anyone. I just … I can't even explain just the passion I have for it.
Q: Do you have any makeup people who inspire you?
A: Yeah, oh my god, so many people. [Laughs] Well, before the cosmetology program, I would look up Youtube videos, like that was all that I would watch. Of course, no one in my family, because they don't do makeup or anything like that, but I can name 10 Youtubers, because that's all I used to watch … is Youtube, Youtube. That's how I taught myself: NikkiTutorials, Jeffree Star, Patrick Starr. Not even, there are also special effects girls like Glam&Gore.
Q: Was there ever a time when you didn't want to create a makeup line or go down that road anymore?
A: Not necessarily, but there definitely has been patches where I get frustrated at things. Sometimes, I'll try to create a look, but it won't come out the way I want it to, and it's frustrating, but I've always had that passion where I don't feel like giving up.
Q: Where do you see yourself in 10 years?A: In 10 years, hopefully owning my own makeup line next to Kat Von D, hopefully being one of those bigger … I want to be vegan, cruelty-free … that type of line.