Makenna Harper: ASU Bound
  You can feel the determination and fighting spirit in her voice. You can hear the years of hard work and sweat she's put in when she speaks. When you talk to Makenna, you can see the passion she has for softball through her enthusiasm for the sport she loves. These characteristics have paved the way for her success as a college-bound athlete with a recruitment by Arizona State University, a Division 1 Pac 12 school. In her freshman year she committed to play softball for ASU, but the road to this achievement was not an easy ride.
  "I wanted to play with the best and so I pretty much just worked my butt off all the way up until now. And the work isn't over, just because you get a scholarship doesn't mean the you don't have to keep working hard," said Harper.
  The journey to ASU was a combined effort by not only Makenna, but her parents too. They were not only supporters for her dream, but were also there for the training and practice that is required at such a high level.
"
I wanted to play with the best and so I pretty much just worked my butt off all the way up until now. "
— Harper
  "I would say I think I got a lot of athletic abilities from [my mom] but my dad was the one who took me out everyday, hit me ground balls, hit me fly balls, took me hitting everyday. He was pretty much my rock when it comes to sports. He knew I had the potential so he would push me and push me to my breaking point because he knows that I can be a great player and he just wants to see me succeed," said Harper.
  Harper has high hopes for her life at ASU as she is wishes to pursue a Masters degree while continuing to play softball. Even more, she aims to achieve goals that stretch even further than college softball.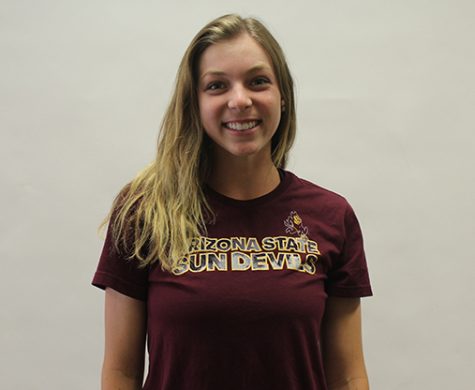 "I want to be an all American D1 athlete and the Olympics are in 2020. They're bringing back softball so if that's even a possibility, that's my main goal. And I just want to get out of there with a masters degree so I'll have a fifth year paid for as a graduate assistant. I want to go into pharmaceutical sales or a sports route like sports medicine because I really like working with athletes," said Harper.
  Over the years of dedication to her sport, Harper has developed a determined mentality and solidified her approach towards excelling at her game. Her hard work continues to push her to great heights and give her the ability to play the sport she loves.  
  "I would say be the best you can be and your physical game is 10 percent and 90 percent of it is all mental. So whatever comes your way you just got to be strong. You got to fight through it and if you want to be a D1 athlete you have to work hard," said Harper.