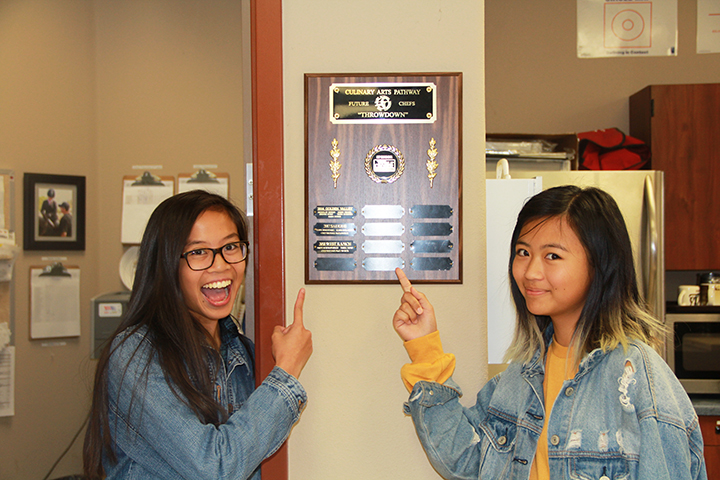 Future Chef Throwdown: Jared Sotiangco and Isabel Zheng
May 24, 2018
Don't deny it. We all watch "Cupcake Wars" and "Chopped" in our spare time. But the contestants of Food Network are not the only ones wowing judges and creating culinary masterpieces. Sophomore Isabel Zheng and junior Jared Sotiangco are the two talented 2018 Future Chef Throwdown winners that have taken their passion for cooking to the next level.
Q: When did you first develop an interest in cooking?
Zheng: I think from a very young age, like preschool or so, I was interested in food and the process of making food, but actually getting into culinary was maybe about three years ago.
Sotiangco: I liked cooking with my grandma and my dad when I was little, but then I really wanted to get into it in like freshman year.
Q: Can you describe your meal and the competition?
Sotiangco: The competition is called the Future Chef Throwdown where the different schools in the district come into the industrial kitchen that we have here. We create a dish based on the specific protein we have to use, and this year we had flat iron steak. We made tropical surf and turf, which featured shrimp, quinoa and mango salsa. And steak of course. Then you present it to a panel of judges that include restaurateurs from Wolf Creek, Salt Creek, and the culinary teacher at COC. Basically, if you win, your dish gets to be featured in the Wolf Creek menu for a week.
Q:  How did it work?
Sotiangco: How it works is he says: "this is the protein you have to use." So he said you have to use flat iron steak. He said that maybe two weeks before the competition, and we had a few days to plan what we wanted to do. We had to tell him what were doing so he could order the ingredients.
Q: How long have you known each other?
Zheng: Since her beginning of high school, so for like two years.
Sotiangco: Yes, we've known each other for two years!
Zheng: We met in percussion.
Sotiangco: She came and I was like, "I'm gonna adopt you," so now I'm her mom.
Q: What is your favorite quality about each other?
Sotiangco: I have to say only one thing?
Zheng: One of the qualities that I really like about Jared is that I can talk to her about basically anything.
Sotiangco: I like how she's always there to listen to me about stupid stuff, and I love her sense of humor because its very similar to mine. She's very hard working which is great.
Q: Advice for others who want to go into this career?
Zheng: Know your cuts very well.
Sotiangco: Don't be afraid to experiment, and like don't be afraid to fail. It sucks because you're like, "I'm wasting food," but don't be afraid to experiment because it's the only way you're gonna improve and not be a monotonous chef.
Q: Have you considered pursuing a career in this field?
Sotiangco: I have. I'm confused about what I want to do because once I started doing culinary I was like, "hmm maybe I want to drift into this path instead of the other path that I wanted."
Q: What's your favorite thing to make?
Sotiangco: [to Zheng] You like to make noodles.
Zheng: I make noodles like every other day. I guess that's my favorite thing to make.
Sotiangco: I like making eggs. It's actually really hard to make a perfect egg, so you know. I also really like making pasta.
Q: Biggest influences?
Sotiangco: Well for culinary influences, I watch a lot of Food Network. So I love Justin Warner, the culinary encyclopedia, because he knows a lot about ingredients and knows how to manipulate them and reinvent new things which is really cool. I like Alex Guarnaschelli; she's a really good chef. And I like every child in masterchef junior because they're insane.
Q: Why did you want to join the contest?
Sotiangco: We just went for it. We thought it'd be cool to win, but that wasn't really the top priority. It was really just like "let's experience what high pressure cooking is like."
Be on the lookout for these aspiring cooks in the future!