Link Crew: Welcoming the Class of 2022
Connection. Mentorship. Friendship. Welcome. All of these words describe the one-of-a- kind club called Link Crew. Link Crew is a club that unites the freshmen and upperclassmen. At the end of the semester, the new Link Crew members have a meeting which basically introduce them to what the club is and how it works. Once the school year is over, Link Crew has meetings throughout the summer preparing themselves on the priorities they have as Link Crew leaders. This way, the Link Crew leaders are ready for the school year ahead of them.
Todd Arrowsmith, the director of Link Crew, matched the 42 junior and 43 senior mentors to the freshman class to act as their mentors for the school year. Link Crew's main goal is to connect each grade level together, especially the freshmen. It focuses on making sure that the freshmen are comfortable heading into the school year. By bringing the rising class together with the upperclassmen, unity is formed among all the students. This club wants new students to know that they are a part of the West Ranch family now that they are here.
On Aug. 9, Link Crew hosted an event for the incoming freshmen to receive guidance for the school year. During the summer, the leaders of Link Crew had assembled a presentation to bond with freshmen and prepare them for their high school journey.. After the first gathering in the gym, leaders continued into the activities planned for the day. As the morning went on, the incoming freshmen were then separated into groups and put with their two assigned Link Crew upperclassmen. All the groups broke off around campus, and this gave freshmen the opportunity to ask questions and learn more about the campus.
Freshman Ryleigh Fitzwater said: "I'm glad to have my Link Crew leaders because it's nice to have someone I can look up to. They are such a great resource to help me become more familiar with the transition from junior high to high school."
Because every club member had gone through freshman year, whether at West Ranch or a different school, Link Crew sees the importance of having mentors during this time of change. High school is where students are going to be for the next four years, and it is extremely helpful to not feel alone in the beginning.  Knowing that there is someone to go to in times of chaos is a reassurance that there is always support to lean back on. It's convenient to have older mentors who know where all the classes are and which buildings are which. To walk into a classroom, realize it's the wrong one, and rush out of the classroom thirty minutes into the class period is a terrible feeling. The leaders — already seniors or juniors — help freshmen avoid being in that situation by understanding how overwhelming it can be and reassuring them.
"When you're a freshman, you are so new and so scared, because you don't know how to get involved or who to hang out with or what's going on. Link Crew is there to help them ease into being a highschooler and make the transition easy for them," said Arrowsmith.
Everything in high school is new — a new environment, new classes, and new people. Because there are students who are four to five years older, everything seems to be more intimidating than it actually is. West Ranch really embraces school spirit and does well in bringing all students to unite as a family during rallies, football games, and other school events. To always stay in touch and keep the freshmen updated, the Link Crew groups — consisting of the two leaders and seven freshmen — have group chats. Because students' phones are always next to or on them, having this group chat lets freshmen have an easy access to their leaders. Instead of looking for two seniors or juniors in a school with over 2,500 students, they can find their Link Crew leaders in just a few minutes. In addition, the leaders also get together with their groups for lunch every few weeks or so and talk about how school is going so far.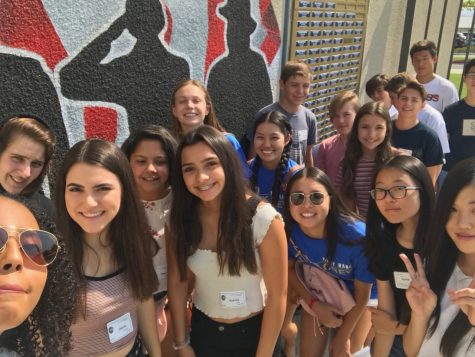 "If I could describe Link Crew in three words I would pick helpful, adventurous, and connected," said senior Samantha Esquivez. "Helpful because we as leaders are here for anything the freshman need help with. Adventurous because the freshman are new to everything and the leaders are going on a journey with them. Then finally connected because we all get to know new people at West Ranch and make some new friends."
Having a role model in times of being lost can help the freshmen understand who they want to become. They see how their older peers act and learn from them. Not only does Link Crew impact the lowerclassmen, it also does a great deal for the seniors and juniors. It gives the upperclassmen the opportunity know their younger peers and allows them to share their experiences, helping in more ways than one. It also brings opportunity to share their mistakes and decisions they have made and how they affected their high school careers. Small things like these help shape and form students along the way.
There are always tips and tricks learned throughout high school. The leaders of Link Crew give a head start on to what those are, such as always finishing homework on the first day it is assigned. Even though it may seem like there is time, not procrastinating is important to understand, because as freshmen journey through high school, it only gets harder. Another piece of advice is to remember that reaching out to new people isn't a "weird" thing to do and that high school is the time to grow out of one's shell. Leaders also mention that finding oneself happens all throughout high school, so there is no rush to become someone new right away. Having these thoughts in the back of one's head is a reminder to spend time wisely and not feel the need to get through each day without taking a breath.
Through introducing freshmen to high school, Link Crew ignites friendships for the students. Asking questions to their mentors will eventually allow freshmen to become more comfortable with their leaders. As Link Crew groups grow more relaxed with each other, it becomes easier to approach them and talk to them. This gives each group the opportunity to have a deeper relationship with each other. From just asking where the restrooms are to sharing one's day, Link Crew is able to build relationships the entire year.
How can West Ranch students get involved? For sophomores and juniors this school year (the future junior and seniors), watch out for an announcement next semester informing how to become a Link Crew leader. The club creates friendships and family amongst the students, allowing West Ranch to be more united as a whole.