New Year, New School
To most students at West Ranch, a trip to Spain or Italy may seem like the perfect escape from school. For a few exchange students, however, Santa Clarita is their getaway to the American dream.
Sara Nardiello from Naples, Italy and Francesca Tommasi Rosso Cuesta from Valencia, Spain are a pair of seniors spending their last year of high school at West Ranch.
Nardiello and Cuesta came to the United States about a month ago. This is their first time in America, and for Cuesta, her first time outside of Europe.
"The first reason [I decided to be an exchange student] is for the language, but also for the experience because America, for us, is like a dream," says Nardiello.
"Also, the first reason is because I want to learn my English. The second one because America is so different," added Cuesta.
So far, they have been enjoying the new environment and campus. Compared to their schools back home, West Ranch is completely different in almost every aspect.
"The school is like in the movies. It's so big. In my grade, we only have 75 kids, my school is smaller, it's a private school and Catholic school, so a lot of things are different. I like this school!" explained Cuesta.
To them, being a student at West Ranch is like living in a western movie. Everything from the diversity among the students to the block schedule where we switch classes instead of staying in one room is almost exactly how they imagined it. However, Nardiello did mention that they had expected lockers like most of the schools they have seen on television.
The pair also expressed a lot of interest in school activities.
"I'm excited to go to hoco and prom because in Spain, we don't have these things, and the rallies," said Cuesta.
"Also the sunrise!" added Nardiello.
Not only do they enjoy the social events, but they are also very fond of their classes and teachers, even though they say they are still dealing with a bit of a language barrier.
"Here, the classes are hard for me because it's not my language, but I prefer these type of classes because in Spain, you have your book and it's the whole time with the book," says Cuesta.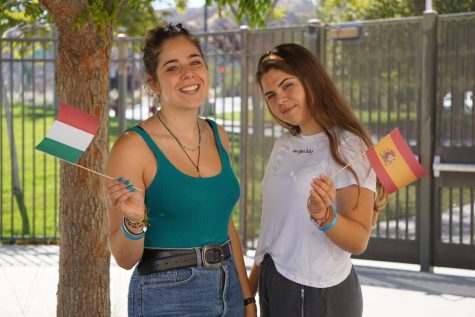 "In Italy, it's more difficult to study. For example, in Italy, we study like six or seven hours a day," agreed Nardiello.
Besides going to school, their host families have also taken them to go sightseeing at a few of Los Angeles's must-sees.
"I think my favorite part is Hollywood, but I for now [sic], I saw it with my host family and I think that I will see Hollywood in Los Angeles," said Nardiello.
Cuesta, on the other hand has been soaking up the sun in Ventura with her host family, the Chandlers.
Olivia Chandler, Nardello's host sister who is a sophomore at West Ranch, said, "It's really fun and great! It's like she's another part of the family, and I'm really glad to have her here. She's really fun and it's amazing to learn her culture and what life is like in Spain."
Next time you see one of these amazing girls around school, be sure to give them a friendly wave hi and don't be afraid to introduce yourself. I guarantee you'll learn something new and interesting.