Wafflecomb: A Taste of Hong Kong
October 4, 2018
If you're anything like me, you're tired of seeing a new frozen yogurt shop advertising the same product at every corner. Craving a new kind of refreshing treat to indulge in? Look no further than Wafflecomb right here in Santa Clarita.
When I discovered the petite shop on Google, I definitely did a double take. The ice cream in the pictures came in a variety of colors and gleamed decadently under bright toppings. What caught my eye was the intriguing sheath encasing it: a honey bubble waffle. Imagine the perfect blend of spongy and crispy as you bite into the fluffiest waffle you've ever tasted. Then imagine the taste of refreshing ice cream and a generous array of toppings giving the treat an extra bite, and you have Wafflecomb.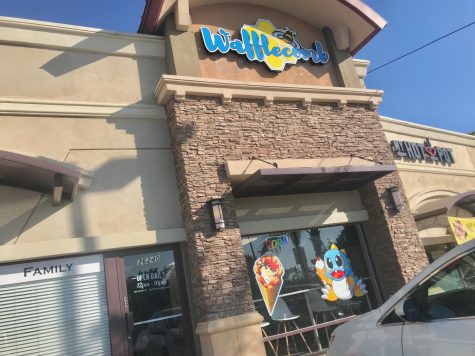 The business is family owned and operated, and aims to introduce culture from Hong Kong to our very own community. Bubble waffles have become extremely popular in the region, and they are quickly becoming fan favorites here as well thanks to Wafflecomb.
Located in a compact strip mall at 26240 Bouquet Canyon Road, the modest shop is, unfortunately, not easily accessible. The parking lot proved to be a massive crick in the neck as consumers attempted to navigate cramped parking spaces and the narrow passage between them.
Although slightly irked by the awful parking situation, the homey and comfortable atmosphere surrounding the shop instantly erased the inconvenience of its location from my mind. A couple chatted softly in the corner, but there were no lines and the relatively small area felt spacious. Clean tables and chairs flanked aesthetic brick wall, and bright colors accented the sleek white walls behind the counter.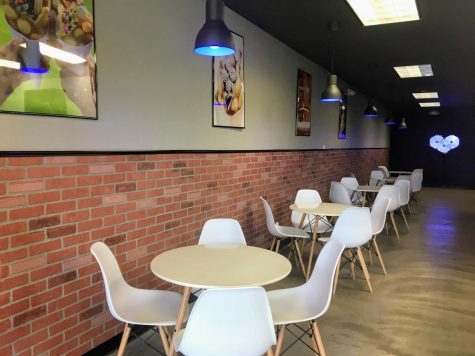 Trying out a new eatery may seem daunting if you aren't sure how to order like veteran visitors, but the television screens planted on the wall alleviate that anxiety by outlining the steps in which to craft your Wafflecomb delicacy. Walking in I was greeted by two smiling, young girls and I knew I was in good hands.
You begin by selecting either a vanilla or chocolate waffle; I opted for vanilla. Deciding which flavor of ice cream to pair with the doughy carrier was definitely the hardest part. Customers are presented with the options of chocolate, vanilla, pineapple, taro, and matcha. Thinking taro would compliment the sweetness of the vanilla waffle, I studied the display on the counter while they carefully assembled the dessert.
If you want to cut down on carbs, you can settle for a simple cup to hold your delicious ice cream. Additionally, if you are in the mood for just a waffle and not the cold ice cream, you can purchase an adorable Hello Kitty-shaped waffle for a dollar.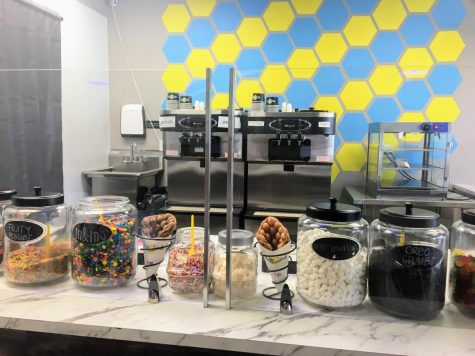 The treat included an unlimited amount of toppings such as Oreo crumbs, Pocky, and gummy bears plus condiments like Nutella, whipped cream, and chocolate syrup. Once the attentive worker successfully loaded my dessert with the extras, I realized how pricy the beautiful treat really was. At Baskin Robbins, you can purchase a double scoop in a waffle cone for $5.00, which is still less than my total of $7.00. Although the dessert was certainly expensive, the unlimited toppings, generous serving of ice cream, and rather hefty waffle made the cost seem reasonable enough. Once you take your first bite, you'll know just how worth it the ice cream truly is.
You're met at first with the undeniably delicious, chilled ice cream mixed with rich toppings — Oreo crumbs, marshmallows, and whipped cream in my case–and then the unique waffle that gives the shop its individuality. The bread is crispy on the outside, but after being soaked with ice cream, it is soft, malleable, and incredibly fun to eat. Such a unique and delicious twist on the basic ice cream cone is incredibly exciting.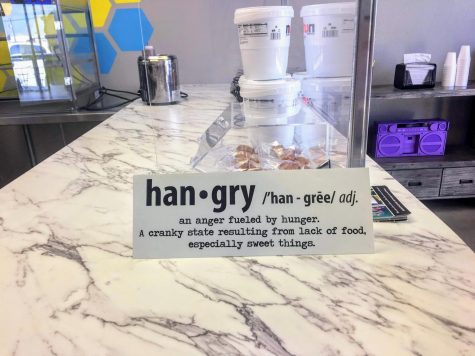 Next time you're craving something refreshing, sweet, and bursting with flavor, direct your attention to the hidden gem on Bouquet Canyon. Although it is a more expensive option than the typical Menchies run and it can be a hassle to successfully stop at the site, Wafflecomb's distinctiveness and creativity cannot be matched anywhere else. Trust me, your taste buds will thank you.