Food Review: Eat Real Cafe
It's not easy to find a healthy and delicious place to eat, but Eat Real Cafe has combined both those qualities into their food. They have two locations: in Newhall on Lyons Ave. and in Valencia on Newhall Ranch Rd. Eat Real Cafe creates tasty food to eat without feeling guilty about eating it. With non-vegan, vegan and vegetarian options, Eat Real Cafe has all the perfect meals and drinks for breakfast and lunch. Their food origins from organic fruits and vegetables keeping their food always fresh.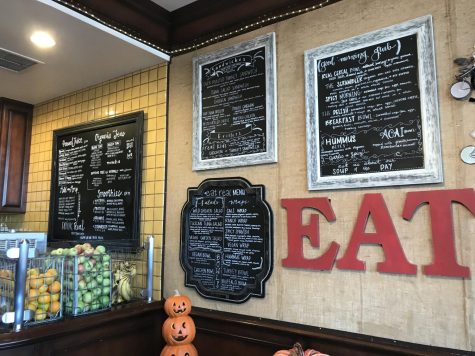 My first trip to Eat Real Cafe Newhall was at 8:30 a.m. on a Saturday. Walking in, the first thing I saw was their artsy chalkboards filled with their menu items in calligraphy and cute, hand-drawn decoration around the words. This gave me an idea of what kind of food I was going to order. I couldn't decide what I wanted so I asked the waiter what was a good breakfast option. I told her that I wanted something light but fulfilling, so she suggested I order their signature acai bowl. The acai bowl consisted of the smoothie made with blended acai, bananas, and almond milk, topped with sliced bananas, granola bits, and coconut shavings. I had dance the past week so I also purchased the "Workout" pressed juice. The juice was made up of celery, cucumber, lemon, apple, and tumeric.
Once it was all paid for, I sat down in one of the tables along the wall. On my walk to the table, I found that they have a bookshelf full of books that the public is free to use, as long as they put it back. Less than seven minutes later, a smiling employee walked up and placed my acai bowl on the table and mentioned that my pressed juice will be out momentarily.
Before even being aware of the existence of Eat Real Cafe, I definitely had a slight obsession with the trend of acai bowls, so I felt qualified to accurately critique this one. I took a picture of the bowl because of how its perfectly proportioned toppings made it almost too pretty to eat. After about five seconds, I grabbed my spoon and tried to fit the most I could to have the full effect. I appreciated how the acai bowl was served in a cold glass bowl, instead of a generic paper or plastic cup. I felt that it improved the taste because the smoothie portion of the bowl didn't melt as fast as other restaurants that serve acai bowls. About one-third into the bowl, my pressed juice came out. The "Workout" juice was served in a glass mason jar with a plastic straw. The light green-yellowish color made me a little skeptical about trying pressed juice because of the possibility that I wouldn't like it. The lemon and celery hit my taste buds the most, but as I drank the juice, my mouth was pleasantly surprised. I finished my bowl and juice with a smile on my face.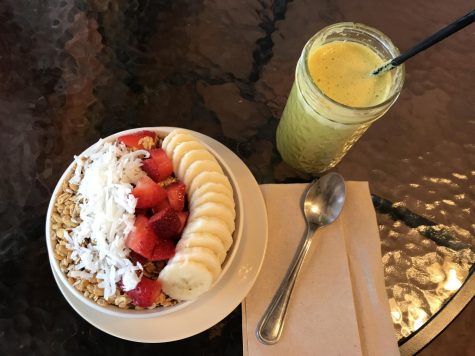 I was very satisfied with the food at Eat Real Cafe. I think there are subtle differences that separate Eat Real Cafe from other restaurants. Usually healthy foods aren't exactly the cheapest food to buy, but I found the prices moderate for what I was getting. After eating and drinking everything I ordered, I was glad that my stomach wasn't filled with regret. It was a refreshing breakfast that satisfied all my taste buds. Their take on cafe meals make it easily forgettable that there is food that isn't filled with fat and grease. Although unhealthy meals are inevitably part of a human's diet, Eat Real Cafe gives people the option to eat light and healthy food for breakfast, lunch and dinner.
About the Writer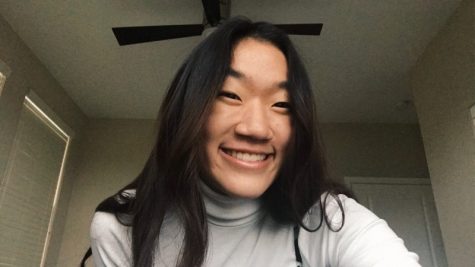 Ashley Park, Features Editor
hii i'm ashley. my 2 favorite things in the world are starbucks and tuesdays with morrie ;) read my stories!!!