Malibu Farm: An Oceanside Gem
Hang on for a minute...we're trying to find some more stories you might like.
Nothing says California more than healthy food and the beach. When you put the two together, you get Malibu's oceanside gem, the Malibu Farm Restaurant. Located on a pier right off the Pacific Coast Highway, you not only get good eats, but you also get an amazing view of the ocean and easy access to the beach, which is right below the restaurant. Specializing in healthy, organic, farm-to-table food, you won't regret eating there.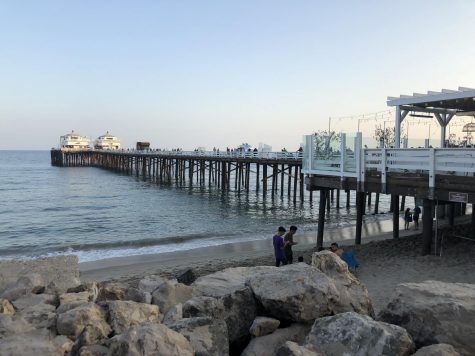 The Malibu Farm Restaurant, which is at the start of the Malibu pier, offers breakfast, lunch and dinner, as well as desserts and drinks. They accept dinner reservations, and offer table service and a full bar. Upon arriving to the Malibu pier, I was greeted with a long line for the restaurant, so it would be a smart idea to make a dinner reservation if you are planning on eating here.
Customer Anne Taguba says, "I ordered the spaghetti squash lasagna, which was really good. It was photogenic and it was served in the squash itself."
Malibu Farm's menu is not very large for each meal, but the food is delicious, delicious-looking, and good for you. If you follow a vegan, vegetarian or gluten-free diet, you're in luck because Malibu Farm has food for you, too. The food mainly focuses on farm-produced staples, like whole grains, fruits, vegetables, eggs and meats. There is a wide variety of drinks with coffee, tea, juices, smoothies, sodas and shakes. To end on a sweet note, the menu has a multitude of made-in-house ice cream flavors, cakes, soft serve yogurt, pudding and meringue. Although the ingredients of each dish are simple, the chefs working in Malibu Farm's kitchen are able to put together these simple ingredients into a tasty and beautiful dish.
"I got their marshmallow ice cream for dessert. It was full of marshmallow flavor and I think it is my new favorite ice cream now," says customer Sophie Tran.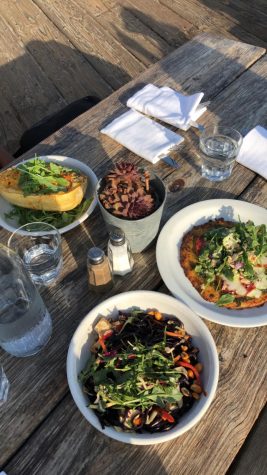 One of the things Malibu Farm is best known for is their food presentation. Its customers often take pictures of their food and post it on social media; it is hard to resist the urge to Instagram Malibu Farm's food. With most food, people eat not only with their mouth, but also with their eyes. The food is plated in a way that makes it look so appetizing and aesthetically pleasing; even a dish as plain as yogurt with granola and fruit looks eye-catching. The baristas at the restaurant are able to make gorgeous latte art, adding to the urge to photograph everything. All of the cold drinks are served in mason jars with a minimalistic Malibu Farm logo printed on front. It is almost impossible to get an ugly-looking dish at the Malibu Farm Restaurant.
As expected for an aesthetically-pleasing and organic restaurant, the prices are very high. Breakfast ranges from $12 to $17, lunch from $13 to $29, dinner from $8 to $29, drinks from $4 to $9, and dessert from $8 to $14. Although everything at Malibu Farm is so expensive, you get your money's worth through the food's taste and presentation.
Customer Devin Lee says, "The cauliflower crust pizza was delicious. At first glance, you would think it looks too healthy to taste good, but it does."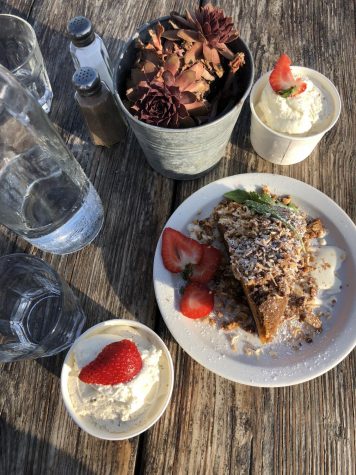 My experience with Malibu Farm was great. For dinner, I ordered the Vegain Bu Thai for $22, which is a vegan Asian-flavored noodle dish with various vegetables and tofu. At first sight, it was beautiful, and I instantly began to take pictures of it. It was delicious, but it was one of those dishes that you could tell was very healthy and good for you. I felt that it needed more salt, but that problem was easily solved because Malibu Farm provides salt and pepper shakers at your table.
For dessert, I ordered the coconut carrot cake for $10. Again, it tasted very healthy, but nonetheless, it was still great. The slice was very big, but I don't think it was worth 
$10. I also wish it had more frosting on it; there was only a very thin layer of frosting on the top for a giant slice. The employees and waiter were very kind. The only negative things I can say about Malibu Farm is that parking can be hard and that there can be long lines unless you make a dinner reservation. Also, there is only one single bathroom for the entire restaurant, which can lead to long lines. It is very easy to miss the parking lot for Malibu Farm, since it is right on the side of the road and the opening is very small. And, when you do miss it, you are forced to keep driving straight until you can make a couple of U-turns and get back on the side of the road that the restaurant is on. Overall though, I loved Malibu Farm and I would definitely go back in the future.
The Malibu Farm Restaurant is one of the most iconic restaurants in Malibu, and there is a good reason for that. Its food is delicious, healthy, and beautiful. It benefits both your body and your Instagram feed. Despite how expensive it is, I would give Malibu Farm 5 out of 5 paws for its great taste, organic and farm-fresh ingredients, gorgeous presentation, kind service and superb views of the beach.