Brunch by the Beach at Caroline's Seaside Cafe
Hang on for a minute...we're trying to find some more stories you might like.
For the best dining experience, good food and good views are the most important. Caroline's Seaside Cafe in La Jolla, San Diego offers both of these things. This cafe is a master at cooking up simple dishes and making them taste extremely delicious. On top of that, it is positioned right above the shore and has stairs for beach access. Starting off the morning with breakfast on the beach sounds like a heavenly dream, but Caroline's Seaside Cafe turns that dream into reality.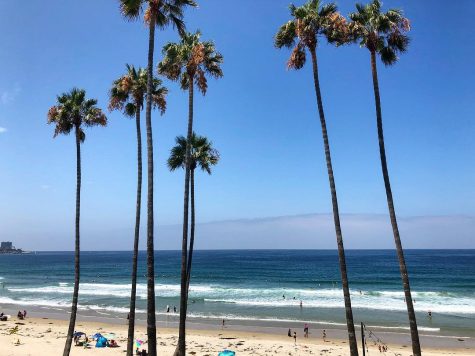 Caroline's Seaside Cafe is open everyday from 8 a.m. to 3 p.m., so it only has a breakfast, lunch and a weekend brunch menu. The setting is very casual and relaxed, which is perfect if you aren't looking for anything too fancy. The cafe also provides takeout services, which is great when you don't have the time to have a sit-down meal, but you want to eat good food on the go. There is parking next to the restaurant with a fee, but there are limited spaces, so you may have to find street parking, which is free, and walk over.
Their menu is based off of casual, Californian cuisine. It offers foods that are familiar to us like burgers, pancakes, eggs, sandwiches, salads and more. The dishes are fairly simple, but you can tell they are made with love and care. Your taste buds will definitely be satisfied by the food at Caroline's Seaside Cafe, but you eat with your eyes before your mouth. That being said, the food is simply yet beautifully presented. The gorgeous plating, along with the stunning view of the ocean, makes for a pleasant dining experience and an awesome Instagram post.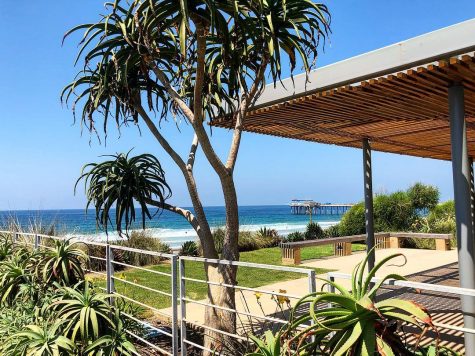 The prices of the food range from below $5 to $16, but most of the dishes cost around $10. For a restaurant meal, the prices are not very expensive, and considering the high quality and and great taste of the food, the prices are reasonable. If you are looking to spend less than $20 on a meal and save money, Caroline's Seaside Cafe is definitely a great place to dine at if you are in San Diego.
The first thing I noticed about this cafe was that it was right next to the beach and allowed beach access, which I thought was awesome because customers can have a fun time at the beach before or after breakfast, lunch or brunch. The second thing I noticed was how beautiful the view of the beach was from the cafe's dining area.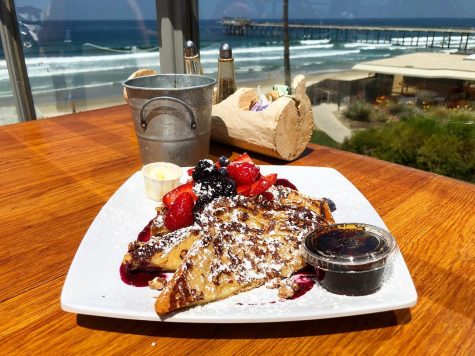 For my first ever meal at Caroline's, I ordered Giuseppe's French Toast for $12, which was a brioche french toast topped with triple berry puree, crushed candied pecans, fruits, and served with maple syrup and butter. I don't think it was anything out of the ordinary from regular french toast, but it was delicious nonetheless. The maple syrup added sweetness to the french toast, the fruits and berry puree cut the maple syrup's sweetness and added acidity and freshness, the pecans added texture through crunchiness and the butter added decadence.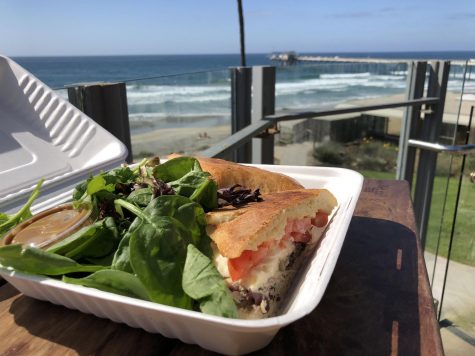 The second time I went to Caroline's, I ordered a caprese panini sandwich with tomato, mozzarella, artichokes, and other goods, which was also tasty. The bread was crisp with a crunch due to the panini press. The tomato and artichoke added freshness, texture and acidity to the sandwich, and the mozzarella added creaminess, decadence, and substance. The employees working there were very kind, and every time I have gone, my meal has been under $20. I have only had good experiences with Caroline's Seaside Cafe, and there is nothing bad I can really say about it.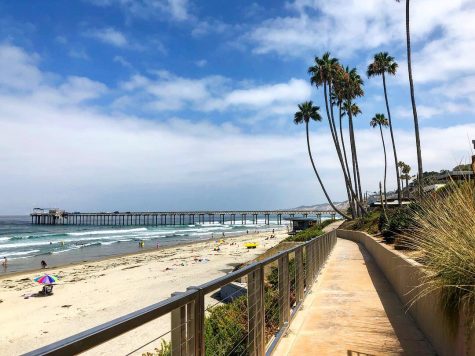 I am in love with Caroline's Seaside Cafe after eating there and I know I will come again in the future. Overall, Caroline's Seaside Cafe is an amazing place to eat at with its delicious food and beautiful scenery. The parking situation can be a little difficult, but is only a minor issue that doesn't take away from how amazing this restaurant is. Caroline's Seaside Cafe deserves a 5 out of 5 paws!