Ayden McKenzie Sets the Bar for Future Costume Designers
November 29, 2018
  Ayden McKenzie, a senior at West Ranch High School, had been rapidly creating the costumes for "The Great Gatsby" play, put on by the West Ranch Theater on Nov. 14, 15, and 16. Each day after school, she went to thrift stores, fabric stores or her sewing room. She sat for hours, cutting up fabric and sewing beautiful pieces to be worn by the actors and actresses in theater.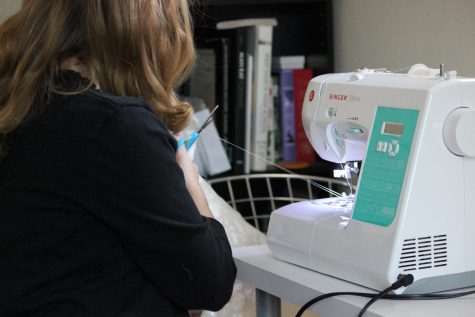 If you ask anyone about McKenzie, they will tell you that she belongs in a different era. She collects vintage clothing, furniture and makeup from the 1940s, and she sleeps in a bed with a 100-year-old comforter. It made perfect sense that McKenzie would be purchasing, designing and making the costumes for "The Great Gatsby" — which is set in the early 1920s.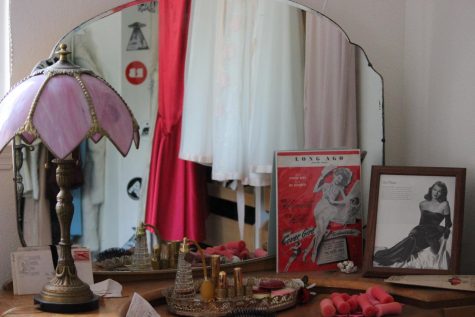 When walking into her sewing area in her bedroom, the first thing you notice is the sound of Frank Sinatra blasting from the speaker on the windowsill. In McKenzie's words, "His voice is so pretty. It helps me concentrate."
  McKenzie's talent for making clothing began at a young age. She told The Paw Print, "I took sewing classes when I was 12, but I stopped for a few years and just started sewing again around February of this year." When she is older, Mckenzie wants to be a costume designer, preferably for theater to be more hands-on.
  For the Great Gatsby performance, McKenzie made a number of dresses from scratch, worn by Ella Kriegel (Daisy), Zoë Miller (Jordan), and Lauren Franco (Myrtle). She also chose the pieces for all of the suits for Ethan Harpole (Nick) and Donald Bowen (Gatsby).
  McKenzie told The Paw Print about her favorite piece she made for the performance: "There was this white satin dress with flower details that was very long and had a long slit in the center of it. It reminded me of a wedding dress. I was really, really proud of it."
  McKenzie is the first costume designer that the West Ranch Theater Department has seen in all of its years of running, and she has set the bar high.
  Her process for making the costumes involved extensive research: "I read the book and annotated it just so I knew everything about it, and then I watched the movies so I could get some more inspiration. I also went through a lot of books about 1920s fashion. I actually spent an entire month researching to make sure everything was authentic and perfect because I like to be precise."
  McKenzie perfectly captured the 1920s to the point that it felt as though the audience was no longer in 2018. For the entirety of the play, the quiet audience stared in wonder as costume changes revealed more and more of Ayden McKenzie's creations.
  It was impossible to walk out of the West Ranch Theater at the end of the night without vividly remembering all of the beautiful costumes designed by Ayden McKenzie.
  If you were unable to see "The Great Gatsby," McKenzie will be producing the costumes for the upcoming play, "Anything Goes," in April. With McKenzie's costume design, the audience will feel as though they have been transported to 1934.