2018's Vintage Fashion Trends
Vintage fashion trends had its fair share of trends this year. And whether they were classic Levis or ruffles, this year has been a non-stop trend of vintage fashion.
  Many people thought certain styles would be gone as soon as they came, but as always with fashion, someone has to bring it back.
    Here is a recap of some fashion trends that made up 2018 — and how to embrace them all.
  Skinny Cat Eye Sunglasses
  Many people have seen these sunglasses on TV, especially on girls that wore poodle skirts and saddle shoes. But cat eyes and skinny glasses are coming back, and many people are wearing them with their everyday outfits. These sunglasses bring a total '50s and '60s look that always makes a simple outfit so much more retro and cool. It also makes for great pictures. Many trendy stores, like Urban Outfitters, caught onto the vintage trend and have been selling them in many colors.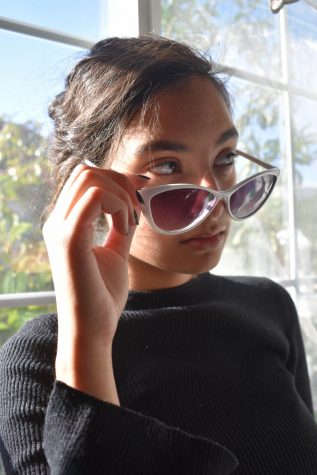 In this picture, plain white cat-eyed sunglasses that are paired with a basic black outfit look like  like Audrey Hepburn and "Grease" had a baby.
  Big Floral Skirts
  Pretty much every single girl that had some sort of social media and was up to date on the latest fashion had a floral phase in 2010. But in 2018, floral skirts came back, this time bigger and better. A floral skirt is perfect for daily frolicking in a meadow, dancing around, and looking super fashionable at school because all you have to do is pair it with a simple top. Easy access and comfortability is always the way to go, and having floral skirts does all the design for you on the bottom. It's just about  finding the basic top, and the outfit is complete!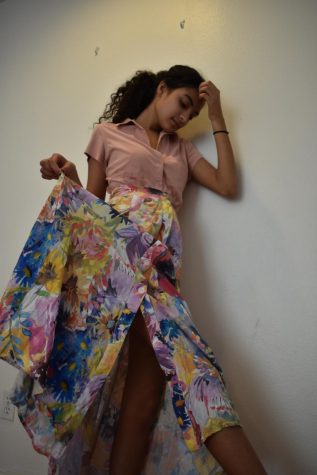 In this picture, a floral skirt is paired with a simple, light pink top. The pink really compliments the skirt, so don't be afraid to experiment with color!
  The Elegant Updo
  Luckily, we live in 2018 and not the 16th century, where women were forced to wear corsets. But as fashion evolved in the 1900s, women started slacking off when it came to elegant fashion by ditching the nice updo and the corsets. But they always made sure to dress nicely and presentable, even when going down the street to get the morning paper. In 2018, most teenagers live in sweatshirts and sweatpants. Yet the whole elegant look has been coming back. Having your hair pinned back, matched with a dress that perfectly shapes your body has something to it. Maybe it has to do with the fact that many young girls look up to fashion icons like Coco Chanel, Audrey Hepburn and Marilyn Monroe, who always made sure they looked their best.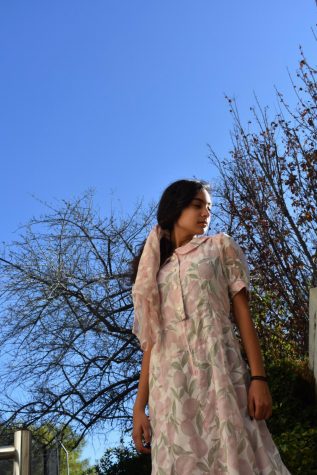 In this picture, a side-pony gives a more modern look to the outfit. Hair tied off with a scarf perfectly compliments a dress that matches the body's sculpture.
  The "schoolgirl" look
  Many modern day schools have saved their students from wearing uniforms, yet we somehow adopted a trend that gave off that schoolgirl look: checkered prints, buttons and boots. The 1990s were big on the plaid look that gave off the vibe of a preppy schoolgirl, and the trend slowly made its way back. Many stores, even Target, sell these checkered print schoolgirl clothes to mimic iconic stars and movies, like Cher Horowitz in "Clueless."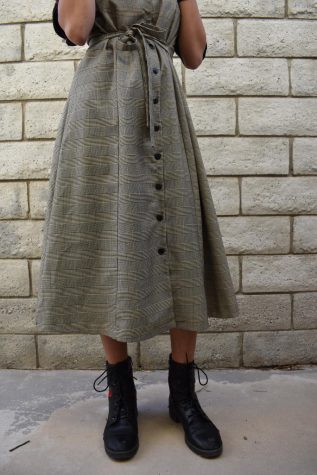 In this picture, a brown checkered dress with some boots make for a super cute outfit combination as it mimics a sort of school uniform.
  Scarves
  Scarves will always be a timeless piece. Not because they are so cute, but because scarves can be used for every single occasion. You're cold in the winter? Wrap a scarf around your neck. Do you need to cover you head while cleaning? Snatch a scarf. Wanna wave at cute boys at the beach while your hood is down and you hair blowing in the wind? Wrap a scarf around your hair and work it. But these days, scarves have mainly been used for fashion. Scarves are super cute, and they can be a perfect combination with any outfit as long as the designs or colors work. A scarf is also so versatile, so invest in a scarf from your local store and play around!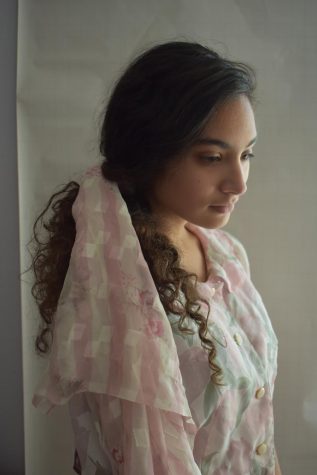 In this picture, using the same color for the sacred and the dress allows for a super cute combination and a perfect outfit for a date at the pond.
  Blazers
  2018 is all about the empowerment of women, so get out there and bring out your inner Beyonce with a blazer. Blazers are so nice when it comes to wanting to look fierce, fashionable and dominant. In the 1990s, many girls wore them with shoulder pads to broaden the shoulders. But 2018 adopted this in an effort to make girls feel like they can do anything as long as they believe. Who knew that vintage fashion can make such an impact in history. Blazers with shoulder pads can be found at your local thrift store, as low as one dollar. So snatch one up and be the queen you are.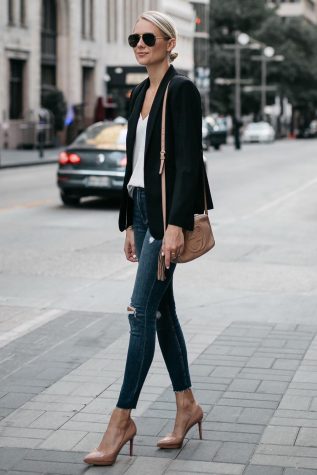 These are the 2018 vintage fashion trends worth mentioning, and let's hope these trends come back next year. But here's a quick piece of advice: wear them the right way.