Jordyn McBride Makes Her Mark at the Orange Bowl
0.0000005 percent. That's a pretty small number. It's 41 divided by 7.53 billion, and it's also the percentage of people in the world that were able to participate in the Orange Bowl, a prestigious international tennis tournament.
Junior Jordyn McBride, the West Ranch girls tennis team's number one player, was included in that minuscule percent this November. Climbing her way to become the second highest ranked tennis player in California is one thing, but being invited to a worldwide competition is a whole new ballgame. This athlete is no stranger to success and has been playing with the tennis elites for years, and being invited to the Orange Bowl allowed her to shine like never before.
Prior to this reputable competition, McBride also participated in the hardcourt Eddie Herr Tournament on Nov. 15 located in Florida. Almost immediately after she finished play in the invitational, she dove into her matches at the Orange Bowl, one of the biggest tennis tournaments in the world for juniors. Play was conducted on clay courts, a tricky surface that McBride hadn't even stepped on prior to entering the tournament.
"At first, I fell and got hurt a couple of times, but I think I like clay better than actual hardcourt for multiple reasons," she began. "I think that clay courts are better on your body. The ball goes a little bit slower than hard court, and it's just really fun because you can slide and the texture is nice." 
While at the Orange Bowl, she racked up some impressive victories, both personally and physically. McBride defeated the number one seed in doubles, an unexpected outcome, and even took down the number one ranked player in all of Puerto Rico. She even managed to take her singles match with the second seed to three sets, bringing it to a grand total of three and a half grueling hours.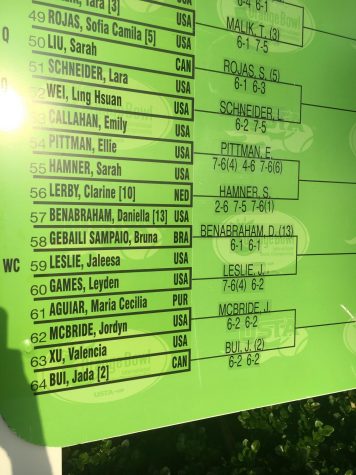 "My matches were such a good experience for me. It was my very first time playing at that level, and I did way better than I thought I would. I was close in every single match I played. These girls were really high ranked, and the college coaches and people watching me were insane. It was the best experience that I've ever had," she said.
Her tenacity and strong-willed play did not go unnoticed. Countless college coaches flooded the scene and were thoroughly impressed with her performance. 
"They're not allowed to talk to you," McBride began. "They just watch your match, take notes, and contact you after the tournament. I've been contacted several times. I would say, when I was playing the number two seed, about 50 college coaches were watching." 
Although the gifted athlete accomplishes something astronomical every day, the experiences were very meaningful to her and she underwent monumental growth from the rigorous competition she faced.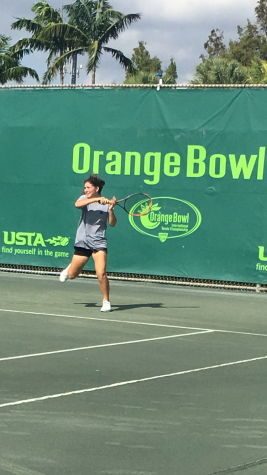 "Honestly, it's really big for me because I've been playing at the national level for a long time, and the fact that I'm moving up and not only playing people in the country but also around the world is crazy. I was really surprised. I never thought I would've gotten in because it was my first international tournament, and the fact that I did so well in them is mind-blowing," commented McBride.
She recognizes what a massive step forward both international tournaments were for her game and is excited to keep exploring new waters. When asked what her aspirations for the future consist of, she expressed a fervent desire to return to the intense level of play.
"I want to play more international tournaments for sure. Knowing what's out there now, I think I'm going to try to do better in them, so when I get in those tight situations with those highly seeded players, I'm going to try to close out in those three-hour matches instead of letting it slip and missing a few short balls here and there," McBride responded.
The athlete appreciates new experiences and makes the most out of every place she visits. During her downtime, she learned more about the state she journeyed to and professed her adoration for traveling.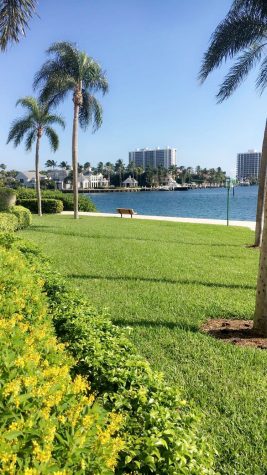 "I love traveling just in general, so if it's out-of-state, or out of the country, it's such a good feeling. I love to explore the world," she mentioned. "When I went to Florida, the water was so pretty, I stayed at such a beautiful place, and it's interesting seeing how it's different to California."
Despite the numerous wonders the new state had to offer, several drawbacks came with her escapades. McBride needed to quickly adjust to the foreign environment that affected her play and the exhaustion attached to long-distance travel. 
"I would say jet lag was the hardest part and playing in the different weather conditions in Florida. The ball is way heavier. When you're running, it feels like you're running through water," she remarked. "The air is that heavy. You only have a few days to adjust to that."
Because she was involved in such intense competition, the tournament directors enforced stricter rules and regulations during matches. Umpires were assigned to every court, meaning the players couldn't call their own lines. If the officials were making shaky calls, it was McBride's responsibility to look for ball marks on the ground to prove them incorrect.
Many athletes look to impress relatives cheering on the sidelines, but McBride's parents do more than just encourage the athlete from afar. Dina and Desi McBride are both professional tennis coaches, and Dina traveled to Florida with her daughter not only to support her but to coach her. Although this may seem an unusual situation to many, Jordyn wouldn't have it any other way.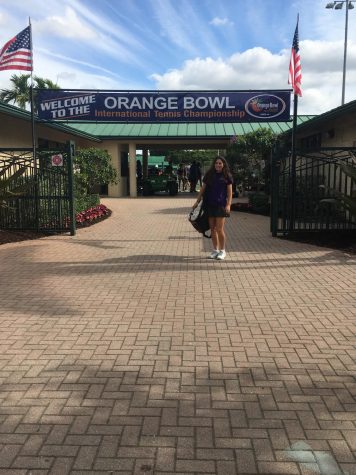 "People a lot of times think that it would be weird having their mom as their coach, or that it'd be hard to listen to what they say. I actually think it's such an amazing thing having my mom as my coach because I trust her opinion, and not only that, but I feel comfortable telling her when something isn't right," she acknowledged with a smile.
Not many people can say they have accomplished what McBride has throughout the course of their entire lives, let alone at age 17. However, everyone can learn something from her work ethic and dedication. She inspires everyone that gets to see her play, and she harnesses rare energy on the court that marks her as a true athlete.
Congratulations Jordyn!