Interview with Former West Ranch Student and Rapper Gio Pilla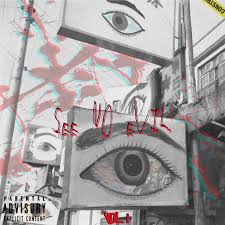 Rapper and former West Ranch sophomore Gio Pilla, 15, released his second album, "SEE NO EVIL (Vol 1.)," on Tuesday, March 5. In this interview, Pilla discusses his album, musical influences, and future plans. He also explains why he dropped out of West Ranch in order to homeschool and pursue his music career.
Q: How did you get into making your own music?
A: Unlike most artists you come across lately, music has always been in my mind since I was a kid. Music is all I've ever known, and it's been clear since a very young age that I wanted to inspire and help others the same way that other artists have helped me. As a kid, I would constantly listen to music and feed off of those ideas and write lyrics of my own just to work on my craft, knowing that one day it would lead me to where I am now. I started my path to music at a very young age doing things such as performing at local venues and doing choir in school, but it wasn't until Oct. of 2017 (freshman year) that I ever released an official audio track. An actor friend of mine starring on the Nickelodeon Show "Game Shakers" approached me about the idea, and, let me tell you, taking that opportunity was the best decision I have ever made. The song itself was quite horrible and sounded like every other SoundCloud stereotypical song, even though we had it recorded in a decent studio. But I knew it was somewhere to start, and, as time passed, we have all been able to see that growth and progression that I had hoped for.
Q: Who are some of your musical influences?
A: Growing up, Michael Jackson was everything to me: everything from his stage presence and charisma, to even the little things like the way he tipped his hat. I would sit in my chair for hours as a kid, before and after his death, watching his music videos on loop every single day. But as of now, there are a lot of great artists that inspire me, and most of them don't even happen to make the type of music that I do. To be honest, I don't even listen to the type of music that I make as much as you would think. But in terms of artists I'm inspired by, I'd say Jon Bellion, Logic, Juice WRLD, Alan Walker, Ed Sheeran, Post Malone, Queen, [Lil Uzi Vert] and Jeremy Zucker inspire me the most.
Q: What would you say is your style/genre of music?
A: I think it's a popular statement for artists to say that "I'm not a rapper" or paint a picture of them being rockstars or anything other than what they actually are, and that's rap. I make rap/hip-hop music, primarily. But as you can see on my profile, I am open and excited to record any other genre, and I already have. I released an EDM track on my past album and have a lot of rock and roll/pop influences in many of my other tracks such as the electric guitar sample on "SEE NO EVIL," all the way to an old Aquilo sample used on my second song ever released, "offthewall." So yes, my music is rap, but I feel like my music can be enjoyed even by those who don't typically align themselves with the genre.
Q: What is it like recording in the studio for an album?
A: You know, honestly, there isn't really any feeling like it, but if I were to summarize it, there are a lot of different feelings coming to you at once. When you start the process of recording an album, you don't really think about all of the other songs or the preparation that is ahead, so the sessions normally last longer, there is more slacking off, mixes take longer to finish, and the sessions are all fun. But as time continues and song after song is finished throughout the given span of time, each session that passes gets closer and closer to the time crunch. Although they are always a blast, they progressively get more work-oriented. All the way up until the very last session I had for my recent album when I recorded "NO SLEEP," I purposely had the WiFi cut completely out at the studio. I also had everyone (including myself) that was in the session temporarily disable their social media to avoid distraction. The experience was amazing and really let me focus on every single aspect: sound and plugin. It's just overall an amazing experience with the artists I work with, my engineer, producers, my friends and me. The energy in a studio session and knowing that I could potentially create something to last generations and take me to where I've always dreamed of going is absolutely unlike anything else out there.
Q: I checked out your soundcloud, and you had at least 10,000 listens on most songs. How did this growth happen? Did it happen relatively quickly or over time as you released more music?
A: If I'm being honest, I was lucky to have a pretty decent start. My first song I ever released got crazy attention due to the artist I worked with, PNUT. In a sense, I almost wish that didn't happen because the song that got that much attention was horrible compared to what I'm releasing now, so a lot of those listeners assume that my music is still at that same level. But as of now, I've been growing and keeping a consistent fan base. Anybody can get SoundCloud streams through marketing, promo and so forth. But if you want to see somebody's real numbers, check their Spotify, Apple Music, etc. I'm still very grateful for those numbers, but it's nowhere near the numbers I plan to eventually reach.
Q: On the album, most of your songs are with fellow young artist 02. How did you meet and decide to collaborate?
A: The album was actually a joint project with him. I've known him for about a year now through a friend of mine, and our bond has just grown like crazy throughout that time. He didn't start rapping, though, until very recently, but he was always at my studio sessions and saw the creative process over the last few months. After all, by watching and learning, he created his own style and brand, and it was dope. We originally recorded on releasing the single "Matrix," but after we got the final mix, we realized not only that we were best friends, but our sound together was something unique. We knew we had something special on our hands and decided to do a 3-4 song EP, but even after we got to 4 songs, we wanted to keep pushing. Next thing you know, we had the album ready — crazy. We both come from similar situations and similar cities. We both are hungry to make it out; everybody has dreams and goals, but it's rare that I find someone who wants it or puts in even half the work that I do. 02 (Lucas) is definitely one of them. Love that guy.
Q: What's up next for you?
A: I'm glad you asked. I have a couple record label deals in the works, and I'm the closest I've ever been to signing off on a full deal. I also have some touring news that I should be announcing in the near future. Although I'll be the opening act, there will still be massive, massive crowds and a great opportunity. Also, if you thought I was gonna go missing for awhile after the album in terms of new music, I'll be back a lot sooner than anyone could expect.
Q: Which artist/group would you most like to work with on a song?
A: My top five, in no specific order, would have to be Elton John, Logic, Swae Lee, Bieber and Jon Bellion. Maybe throw some Post Malone and Martin Garrix in the mix.
Q: What prompted you to move to homeschool from public school, and which do you prefer?
A: Honestly, I think that school in general is very important even for somebody like myself, but I just have had too much going on outside of school to sit behind a desk from 8:25 a.m. -2:45 p.m. five times a week and only be able to focus on what I'm doing on the weekends. I lost so many great opportunities because of it, and even my family, who strongly believed in me staying in public school, realized it was time for me to enroll in a homeschool program. In general, public school never really has been my thing especially since I've started doing music. Everybody always has something to say; there is always a rumor, and it's just a huge waste of energy to be involved with. Everyone has a story about me and that's fine, but unless you hear it from my very close friends and family, don't read too much into it. But in general, out of all the schools I've been to, West Ranch hands down had the most comfortable, mature and driven group of peers I've been around in school.
You can listen to Pilla's album "SEE NO EVIL (Vol.1)" on all major streaming platforms out now.