Ecosia: The Search Engine that Saves
It's easy to slip into the mindset that climate change is going to ruin the world regardless of our efforts to prevent it. Might as well just sit back since there's nothing that can really be done, right?
What if it was possible to turn an activity most people perform 20 times a day into a gift to Mother Nature without any extra effort? It is more than possible, and it can be done using Ecosia.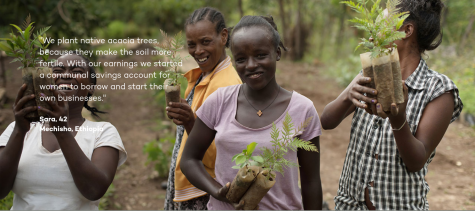 Ecosia is a web browser that allows anyone to take one of the easiest tasks in the world — typing into a search engine — and use it to maintain a healthy environment around the globe. Search ads are used to generate income that is poured into planting trees.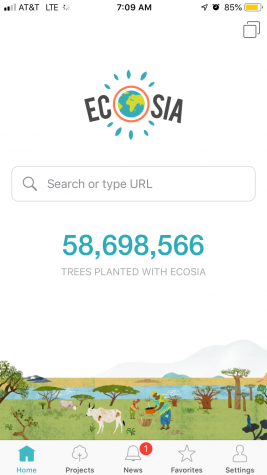 Furthermore, every search removes one kilogram of carbon dioxide from the atmosphere. The people behind the eco-friendly browser and their 7 million users have helped plant over 58 million trees with an investment of over 9 million euros. Although it is based in Berlin, people across the globe can utilize Ecosia.
Using Ecosia can be done with the same ease as Google. Downloading the Chrome extension provides for the best desktop experience, and each new tab shows off a polished look. Ecosia's projects are always on display, as well as global environmental news, frequently visited websites and settings. Users can even check how many trees they financed themselves.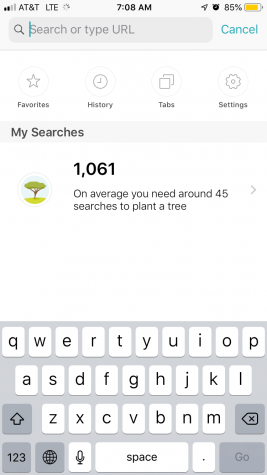 After telling my dad about the browser, he was skeptic. "How do you know that's really what they're spending their money on?" he questioned. I actually had an answer to that.
Ecosia broadcasts their spendings to everyone with a simple click or tap. No maneuvering and no deep searching. They proudly showcase the life they're creating across the globe. On the app's home screen is a tab labeled "Projects" under which specific reforestations are displayed. Anyone can read articles detailing the ways in which Ecosia is bettering the environment in Madagascar, Indonesia and Haiti, to name a few places.
For example, profits from search requests have helped restore the glory of Mount Saran in Borneo, one of the last remaining habitats of Orangutan apes. Farmers in the area have greatly improved livelihoods as productive tree species are being planted to create economic alternatives to palm oil.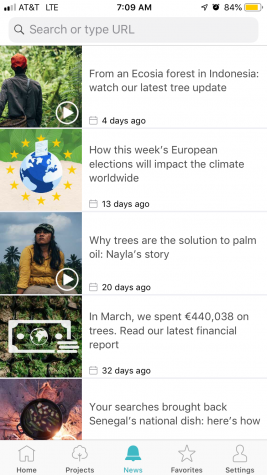 Ecosia publishes its monthly spendings for the public to study and is a certified B Corporation, meaning they meet the highest standards of verified social and environmental performance, transparency, and legal accountability.
Environmentally, there is nothing Ecosia doesn't master, but, performance-wise, they face a few drawbacks to integrating the search engine into daily life. Google has a wider variety of results and intuitive pop-ups. Ultimately, however, the two interfaces are very similar, and Ecosia still has many useful functions such as unit conversion and language translation pop-ups.
Without a doubt, Ecosia is a difference-maker for the environment, future generations and anyone who just wants to check on how their favorite sports team is doing. A massive amount of carbon dioxide is being removed from the air every day thanks to ordinary people looking up ordinary things. Anyone who uses Ecosia can find solace in knowing they are making a positive impact on the environment without having to get up from their couch.
Even die-hard fans of other search engines should try the browser out for a day and see if they like it.
Are you willing to sacrifice the pretty Google logo on your screen to save the environment?