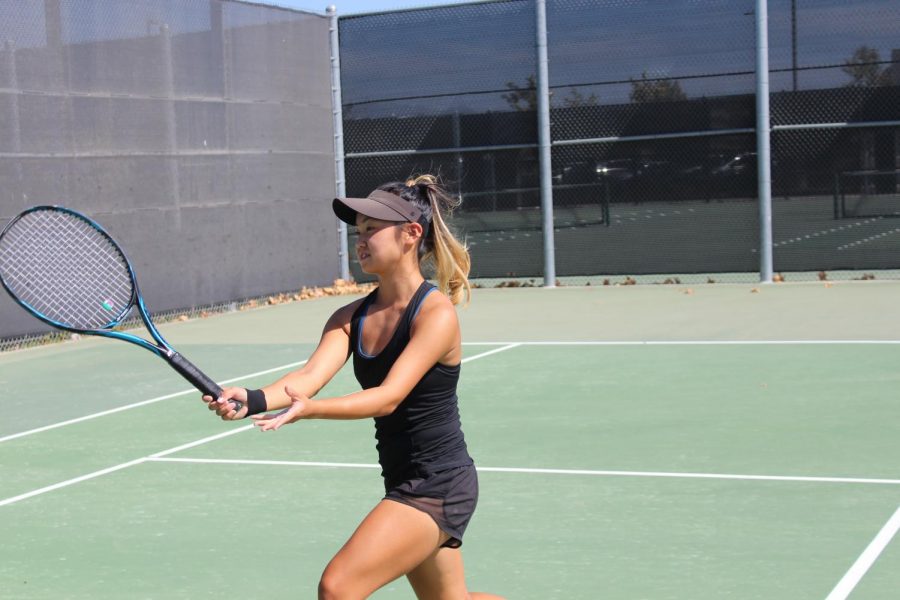 Up. Down. Up. Down. Annette Roberston bounces the ball slowly, the sound it makes when it hits the court in time with the heartbeat dancing between her ears. All she can hear is its rhythm, all she can see is green as she tosses the ball to the sky, all she can think about are the words "match point." It happens in a blur—she serves, charges the net, and slams a volley out of her opponent's reach.
West Ranch is home to a huge population of star athletes, but new arrival Annette Roberston is particularly impressive. Securing a spot on the Varsity tennis team is difficult enough, but doing so as a freshman is a feat to behold.
Although she plays for four to six hours every day, training isn't enough—competition is necessary for steeling the nerves and adjusting to a variety of opponents. She competes in tournaments twice a month, and even beat the highest ranked player in Korea in The World Jr. Tennis Tour Championships this September.
Competing in tournaments is often a lonely venture; however, as an incoming freshman, Robertson will partake in the whole new ballgame of team tennis. 
"This is my first year being on girls tennis, so I can't wait to feel what it's like to be in a team," she said delightedly. 
It is said that a player with endurance and a "high tennis IQ" outshines the competition, and Robertson clearly scores well in both categories. Throughout her many years of competition, she's transformed breakdowns into lessons that fortify her mental stamina.
She admitted, "I've faced a lot of things mentally and physically. I get injured from over-exhaustion, but the majority of the time, it's mental. I get negative a lot, so I'm working on trying to be more positive." 
Robertson is primarily a singles player thanks to her endurance and quick thinking. However, life isn't easily conquered solo; she stressed how her family and coaches keep her steady on the path to success. 
The athlete expressed a special adoration for her mother, saying, "She has been with me my whole life. If she wasn't there with me, I don't know if I could've been normal."
Her parents and coaches taught Robertson valuable lessons, but the time she's spent in grueling competitions helped her learn numerous on her own.
"Keep working hard and there'll be a time when it'll pay back. I have a hard time being patient," she confessed, "but my coach always tells me that I focus too much on leaving results. What I have to focus on is what I have to do in the situation, and how I can make things better."
Clearly, tennis claims a dominant position in the rising athlete's life. The best stars love the roles they play, and Robertson is no exception. 
"Tennis has taught me a lot of things. It has changed my life, personality, the way I act, and basically everything. I can't imagine myself without tennis." 
She's enthusiastic about the year, but her heart is always looking to the broader future. However, the excitement isn't reserved for her own accomplishments. 
"I want to be able to go to college for tennis," Robertson began, "because I want to be able to help my mom in every way I can. I want to make her life easier." 
A recurring theme permeates Robertson's thoughts: the future. The diligent player is fueled by her overarching goals, but also remembers to take life one point at a time.