Sunday Morning Review
The perfect place to grab a drink on Sunday morning is Sunday Morning, with two locations on W. 6th Street and Melrose Avenue. Although it's categorized as a coffee shop, they also make a variety of different drinks and meals. Their drink menu ranges from basic coffee and flavored lattes to specialty teas and lemonade.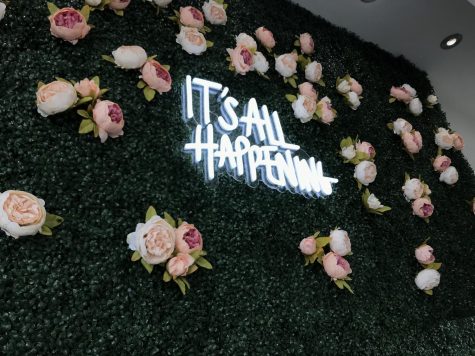 Sunday Morning has furniture and artwork that follow a modern contemporary theme. With an aesthetic plant wall filled with roses and neon letters inside, Sunday Morning has the perfect backdrop for foodies to take a picture with their drinks. 
Out of their menu, lattes and lemonades are a Sunday Morning specialty. These drinks give Sunday Morning their own originality. Although they serve classic lattes such as vanilla, caramel and mocha, they also have their own original latte flavors like rose, honey lavender and strawberry white mocha. The lemonade drinks they have are not actually lemonade; the Blue Lemonade is made of pumps of blue raspberry syrup, four lemon slices and carbonated water. This unique take on lemonade is a customer favorite.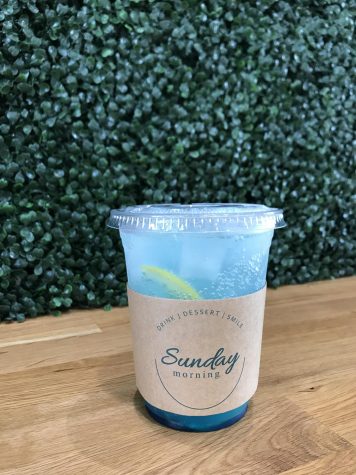 Because drinks are their forte, they do not have plate options for each meal of the day. However, they have food options varying from numerous types of paninis, sandwiches and breakfast plates. The price for food ranges from $7 to $9 per plate, and the smaller pastries range from $3.50 to $5. Coffee, tea and lemonade prices are higher than the prices of Starbucks' coffee. Basic coffees such as the Iced Americano are $3.75 but most of the other drinks are $5.00 or $5.50. The price is definitely on the more expensive side but is compensated for a convenient and refined atmosphere.
Sunday Morning is filled with tables and chairs along with high tables and stools. The sweet aroma of coffee and the quiet background music make Sunday Morning an excellent place to do work or spend time with people. It was also very useful to have an outlet for computer chargers or a phone charger below each table. Having one designated for each table prevented crowds of customer plugs fighting to have the outlet. 
West Ranch student Abigail Soriano says, "I've actually been to Sunday Morning a few times, and it was really good. I liked studying there because it wasn't too loud or crowded and their coffee was good."
As many coffee shops do, Sunday Morning plays tranquil music in the background, which was mild in volume, and also had free wifi. The workers were very accommodating and provided quick service. 
Sunday Morning has a calm atmosphere and is a great place to spend quality time with friends or do some work. This coffee shop gets 5 out of 5 paws!