The Broad Museum Displays Contemporary Art to Eager Visitors
   Contemporary art museums are becoming more and more popular and range from LACMA to the Getty Center. One of these trendy displays of artwork is The Broad, originally founded by philanthropists Eli and Edythe Broad. This museum is located on the Grand Avenue of Downtown Los Angeles, right next to the Walt Disney Concert Hall. Although the museum opened in 2015, it has recently regained interest due to some of its new collections.
   As soon as visitors enter through the doors of The Broad, they choose to either ride an escalator through a dark tunnel or a ride a clear elevator. Right away, visitors are immersed in the massive, colorful and articulate paintings of Mark Bradford on main display. 
   One is "Deep Blue,"  a piece that is 50 feet wide, covering an entire wall. The painting consists of dark blues with bright colorful mounds of paint that protrude from the canvas. The Los Angeles city grid is depicted on this painting but is covered by these hills of color, which signify the destruction and madness that occurred during the 1965 Watts rebellion. Others by Bradford include "Yellow Bird" and "Helter Skelter 1."
   In addition, Jeff Koons' "Tulips" was one of the crowd favorites. This piece of artwork is made of mirror-polished stainless steel with a transparent color coating. Another piece by Koons is "Balloon Dog," also created with stainless steel and a blue color coating. The piece was 10x12x3 ¾ feet, making it a landmark to visit when walking through this museum. 
   Yayoi Kusama is the creator of two unique LED rooms on display at The Broad: "The Souls of Millions of Lightyears Away" and "Longing for Eternity." Flashing LED lights and countless mirrors surrounded the awed crowd as soon as they entered. 
   Kusama's artwork is inspired by "eternal unlimited universe, love for humanity and longing for peace in the world," she explained in an exclusive interview with Sara Loyer, assistant curator at The Broad. She added, "I integrate my philosophy about the eternity of inter-relationships into my artworks." Eternity was definitely what the visitors witnessed as they gazed into the infinite lights and reflections. 
   "Beef Ribs Longhorn" by unique and talented artist Jean-Michel Basquiat displays how some view certain animals but in an artistic and emotional way. The painting was created in 1982, and, since then, many still read the small descriptions of animals and animal products behind the large black bull. It reveals how uncomfortably horrible people have treated livestock and is a reflection of the human population working forwards to a better future.
   Overall, visitors are able to participate in a unique experience by visiting the Broad. Every turn throughout the museum brought a gasp of awe from the crowd. Due to the large number of eager tourists and art fanatics that want to visit, it is best to plan ahead. General admission to see the collection is free, but  any add-ons or special exhibitions cost money. Make sure to visit the website http://www.thebroad.org to learn more about the collection, events and tickets. 
About the Writer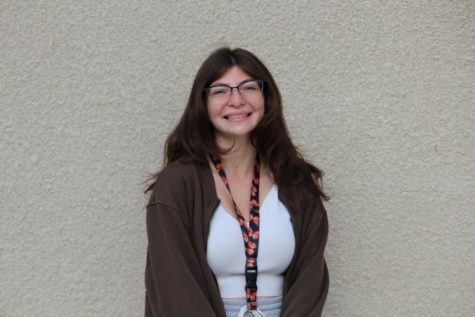 Lauren Guss, News Editor
Lauren says "Hi welcome!" She has been one of the news editors for two years and she loves strawberries and highland cows. Lauren has four years of journalism...