Day in the Life of a Virtual Teacher
Attending school over Zoom has been not only a drastic change for students, but for teachers as well. Distance learning brought a new world of digital education upon teachers at West Ranch. As the pandemic and quarantine continues, teachers are required to adjust their lives to the new-normal. Mrs. Kim, one of West Ranch's beloved math teachers, takes The Paw Print through her average day as a teacher in quarantine.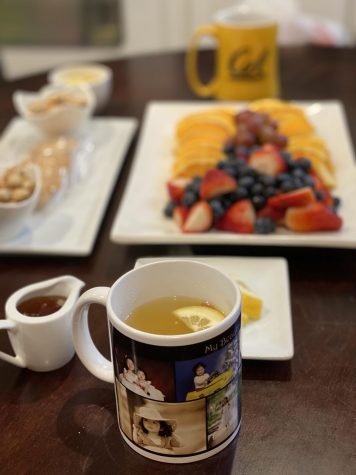 7:20 A.M.
Mrs. Kim starts off her day early in the morning with an alarm from her Alexa. Because of distance learning, she throws on a professional top and some comfy shorts rather than seeing her students in-person in a head to toe professional outfit. 
After she gets dressed, she heads downstairs to prepare fruit and tea for her family while her husband prepares smoothies. Once her husband and daughters start their work, she makes a cup of coffee and heads to her temporary classroom to get ready for her classes.
8:30 A.M.
Her classes begin and she welcomes her students as they enter the Zoom call. 
"I love seeing my students. I look forward to getting to know my students in-person when it's safe to return to campus," Kim explained. 
She starts each class with birthday celebrations or a short inspirational video for her students, Mrs. Kim goes over the agenda and starts her lesson. In between her classes, she answers student questions and prepares for her next class. After she finishes teaching all her classes, her schedule fills up quickly as she attends her club meetings during the lunch break, so he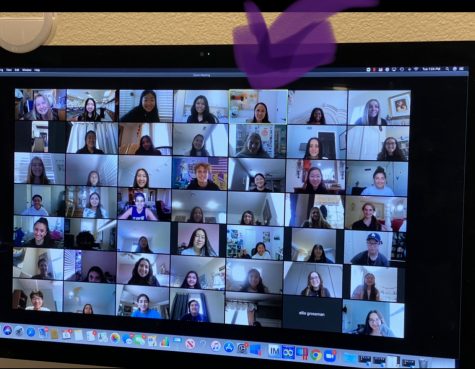 r younger daughter prepares lunch for her. As Mrs. Kim is the advisor for the clubs ICSTEM and Coding Olympiad, she oversees her club leaders inviting speakers from far distances such as UCLA Math professors or partnering with UC Berkeley's Big Data organization. She loves to see her club leaders taking the advantage of the pandemic to reach out to others in creative ways.
1:40 P.M. 
On all weekdays except Wednesdays, Mrs. Kim hosts her office hours to give her students an opportunity to work on homework and make up assignments  with her. On Wednesdays, she attends district, department and professional development meetings. Once she finishes her office hours, Mrs. Kim meets up via Zoom or over the phone with her fellow colleagues for lesson planning, creating upcoming unit tests, sharing new technology tips and more.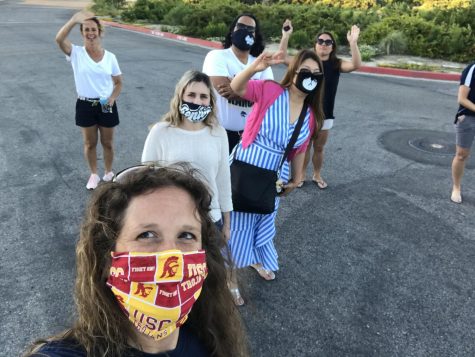 "Our West Ranch teachers are super dedicated and take pride in what we do," Mrs. Kim added as her face lit up, "It's inspiring to work with the people who are passionate about what they do." 
3:30 P.M.
After a long morning of class and meetings, Mrs. Kim takes her daughters to golf practice and works on grading or answering emails during their practice. When they get home from practice, Mrs. Kim begins working on a step-by-step for problems that her students asked for and posts on her website. Once she finishes her school work, she heads downstairs to eat dinner with her family.
Mrs. Kim shared how even with her busy schedule, she makes sure she eats dinner with her family and dedicates quality time for her family.
"Growing up having dinner together as a family was a must in my family. I would like to keep that tradition. I only have less than 2 years or so with my older daughter and 4 some years with my younger daughter before they both take off to college. I hope that they keep the conversations and the time together as a family while they are away for their college education and beyond."
As the day begins to end, Mrs. Kim heads back upstairs to finish grading, check her emails, and prepare her lesson for tomorrow. 
Mrs. Kim admitted that grading has been one of the harder adjustments to distance learning. She explained that "grading homework and assessments has been taking extra time for the teachers. We can't just mark on the students' tests or assignments when we grade…When you have 160-170 students, taking an extra one minute grading all the tests can lead to about three hours more than usual."
11:30 P.M – 12:00 A.M 
After a long day of work, Mrs. Kim heads to bed and goes to sleep. She tries to be asleep before midnight to get a full night's rest and be energized for the next day. 
Mrs. Kim shared a heartfelt reflection on the impact of distance learning on her job. 
"I appreciate my teaching job so much more. Our job allows us to build relationships with our students, and I appreciate the in-person interactions I get to do, more than ever," she said. "I definitely won't take the in-person teaching for granted when we do go back in person when it's safe to do so."
Despite the challenges that quarantine has imposed upon education, Mrs. Kim remains perseverant in connecting with her students online and strategically compartmentalizing time for her family and students safely at home.