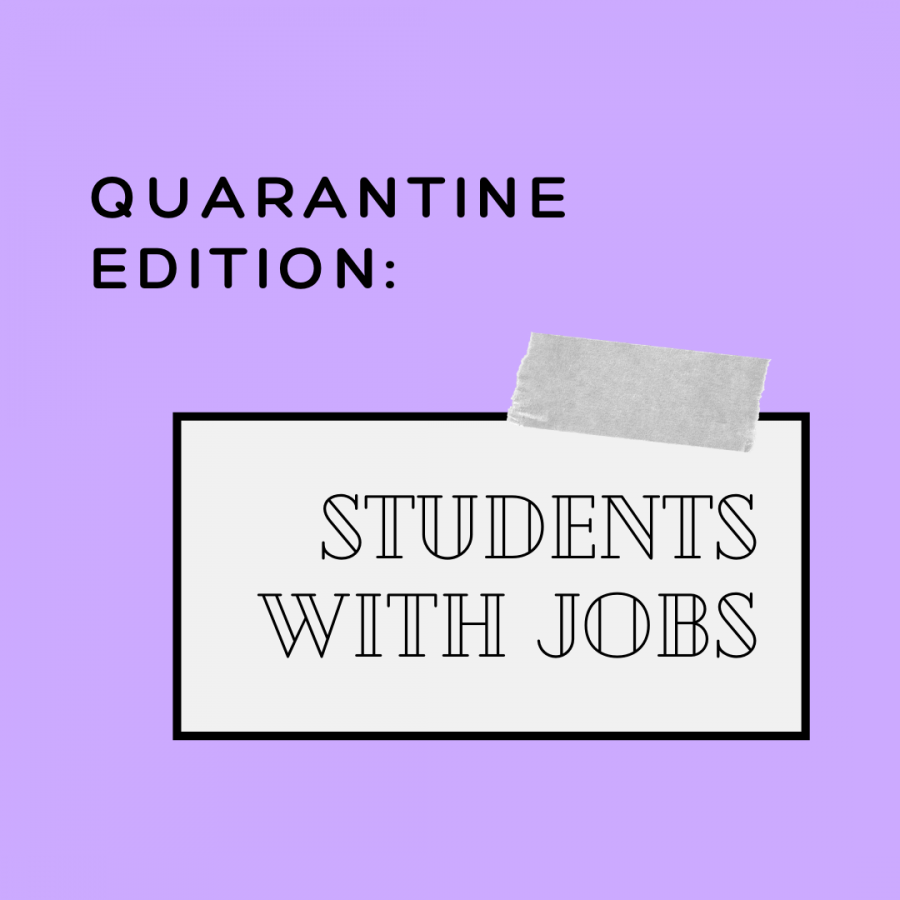 Quarantine has been a time for many to take on a slew of new hobbies such as baking, binge-watching Netflix, and hiking. However, many juniors and seniors have decided to dedicate their extra quarantine time to finding a job and working. The Paw Print interviewed three students at West Ranch who have taken on different jobs over quarantine. 
Alahna Duplantis 
Alahna Duplantis is not your typical high school senior. Like some of her classmates, she has a job, but does not limit herself to just one. Duplantis demonstrates her spectacular versatility as she takes on two different forms of work. 
Duplantis manages two jobs: babysitting and being a personal assistant. She started babysitting at the start of her senior year and added personal assistant to her resume at the beginning of the second semester. Babysitting for Duplantis means watching over three children when she is needed. As a personal assistant, she fulfills different responsibilities such as yard work or other household chores – errands for her employer. 
With her classes at West Ranch all online, Duplantis acknowledged, "It was a lot easier for me to work during the pandemic than before. I have a lot more free time and a flexible schedule, so I'm able to be more available to work." She continued, "Before the pandemic, I was busy every day with lacrosse practices and club meetings so I would not have been able to work as much." 
Working two jobs has given her new knowledge about employment. Duplantis highlighted "the value of communication and boundaries" and how she learned to stand up and "put herself first." She uses these learned lessons in building relationships and communicating with her bosses. 
Even in the face of the pandemic, she gained exposure to new interactions, and felt that she was treated like an equal and consulted like an adult by her superiors. Through each of her experiences and its lessons, Duplantis is able to please both her employers and be a successful, working student. 
Ben Watson 
Ben Watson described his perseverant journey to employment with The Paw Print. The ambitious junior first took initiative and started applying to jobs back in July of 2020, the summer after his sophomore year. The pandemic set up weighty barriers for adults looking for jobs, leaving teenagers to manage the same obstacles in the search for employment. After facing the challenges of rejection, he acquired the discipline of persistence and was offered a job as a cashier.
Watson shared, "I definitely wanted to get a job in the summer of 2020, but I ended up getting rejected from a lot of places because of the pandemic. After going to four interviews, I finally landed one in October."
He adjusted to his workspace quickly and discovered more about balancing his life outside of work. Watson developed a keener sense of time management because of the new structure of his schedule. Although he previously had an identical schedule each day, his new job pushed Watson to manage his time strategically to get all his time-demanding school and extracurricular work done.
In addition to working as the cashier at SCV's local Target, Watson completes other tasks such as delivering online pick-up orders to customers, helping them at checkout and cleaning carts. Though he assumed working denoted serious professionalism at all times, he actually found relaxed moments of leisure throughout his day at work. 
Watson explained that he "often chats with [his] coworkers and developed almost friend-like relationships with [his] bosses," finding a genuine work environment and relieving any apprehensive concerns he had. 
Watson impressively juggles the academic pressure of a junior whilst managing a job, volunteering and participating in extracurricular activities. 
Alliana Serrano 
West Ranch junior Alliana Serrano entered the retail industry as her first step into the job market. Serrano began as a brand representative at Hollister Co. in October of 2020, fulfilling the duties of customer service, inventory control and organization, handling cashiers, and using store technology for online orders. 
Like many businesses during this time, Serrano must keep tabs on the amount of customers within the store and make sure all COVID-19 safety protocols are met on both mellow weekdays and hectic weekends. 
Though staying consistently optimistic, the start of her school-work schedule was not absent of struggle. Serrano told The Paw Print, "In the beginning, I found myself barely having any time to enjoy doing the things I like, which was unmotivating at times. I had to figure out how to make time for myself so that I actually feel productive and satisfied with my day." 
Distance learning has ultimately impacted her working schedule in a positive way. Although online school enables its own set of difficulties, Serrano has utilized the extra time and extended due dates it has offered her. After a time of adjustment, she was able to find the balance of work, school and activities she enjoyed doing in her free time. 
Serrano's first job at Hollister has been, as she describes it, "tremendously eye-opening" and has "provided [her] with an understanding of how precious time is." 
Now with newly gained insight, Serrano looks forward to going to work during the week. As she continues to learn new techniques pertaining to time management and studying after a long day of work, Serrano continues to grow and thrive with her job during this pandemic. 
All three students have taken a step beyond their academic careers and gained invaluable experience. Regardless of the kind of work or the location, these students' ability to balance both education and work undoubtedly demonstrates their hard-work and dedication.