Quest to Find Bigfoot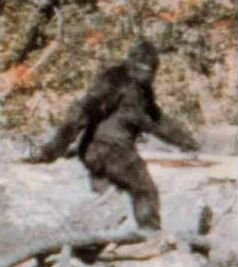 This is a famous picture of Bigfoot. However, most think this picture is another hoax regarding the mysterious beast.
Jeffrey Meldrum, a scientist in Idaho, is going 'over the top' in order to find evidence of the mythical Bigfoot. Meldrum, a professor of anatomy and anthropology, plans to launch the Falcon Project. His plan requires a remote-controlled blimp that will fly over forests, looking for a Bigfoot creature with its thermal camera. Meldrum is collaborating with William Barnes, a man who claimed to see a Bigfoot in 1997. They are currently collecting 300,000 plus dollars from donations to fund for this blimp.
Meldrum wants to discover the proof for Bigfoot's existence because he himself believes that Bigfoot does exist.
Well, what is a Bigfoot? It depends who you ask. Bigfoot creatures are also called Sasquatch, and they are known for their big feet. Although most people, including scientists, believe that Bigfoot is nothing but a hoax, there is a large number of people who claim that they have proof for Bigfoot's existence.
The Bigfoot Field Researchers Organization's website states that, "Tracks, hairs, scat, and tree damage are all physical evidence [of Bigfoot]."
If Meldrum succeeds in his search, proof of Bigfoot will finally answer our questions.