Fukushima Nuclear Meltdown-Today
Hang on for a minute...we're trying to find some more stories you might like.
In 2011, following the Great East Japan Earthquake, which was a staggering 9.0 magnitude, was a massive tsunami that disabled three Fukushima nuclear plants. The cores of the three plants melted within the first three days. Three hundred tons of contaminated water accumulated near the three plants and were being treated with recycled water and nitrogen treatment. As Japan dealt with contaminated waters, the idea of radioactive waters and seafood raised concerns in America.
"I feel that this situation is very major. We get a lot of fish from Japan and shouldn't buy radioactive fish. I am concerned and think this situation of radioactive fish after the meltdown needs to be looked at and solved," said junior Brandon Andrews.
Radiation can perform amazing miracles such as treating cancer, generating power, and relieving pain. However when being related to food, radiation has a bad connotation and often gives the impression that any amount will mutate our DNA, create side effects, or cause some horrible sickness. There is actually no need to be cautious of seafood being imported from Japan or the California Coasts. According to the Forbes website, the radiation given off by this nuclear meltdown is equivalent to 76 million bananas. Bananas contain potassium and potassium contains radioactivity, and therefore bananas are slightly radioactive. Eating a fish imported from Japan or caught on the coasts of California is roughly equivalent to the amount of radioactivity being eaten in a banana.
Students and teachers have different opinions about the seafood that is imported from Japan and caught on California coasts.
"I'm not concerned about the fish. I put a lot of trust in the government to regulate our food and make sure what were eating is safe," said social studies teacher, Mrs. Rojas. "I'm not sure if that's naive on my part or if I should be concerned about it, but I'll still go and eat sushi and eat fish from a restaurant."
Even though students were informed that radioactivity is not an issue, they still had doubts about the matter.
"I feel that because of the nuclear meltdown in '11, it might still be unsafe to eat fish from the waters near the plant. I am concerned because this can cause health problems to our people," said sophomore, Cristina Sanchez. "Seafood imported from Japan should be checked for high levels of nuclear activity."
According to CBS News, Japan tests all the seafood they catch for radioactive cesium and so far none have been detected except for one type of octopus.  Japanese government also does their best to inform citizens which fish is contaminated and which have been tested and safe to eat.
Statistics have proven how bad this disaster has affected Japanese fishing industries. Before the earthquake and meltdown, there were about 400 fishermen out in the seas and today there are only about 130. The annual amount of fish caught was 19,000 tons and today they only catch less than 2 percent of that. A Fukushima local, Kazuko Matsui, is confident the fish is safe to eat.
"I think it's safe to eat, and I want to get rid of the bad rumors," Matsui told CBS News. "I'm a local, so we should eat it to prove how safe it is."
Social studies teacher, Mrs. Arrowsmith said, "Unless the FDA (Food and Drug Administration) or USDA (United States Department of Agriculture) says otherwise, I guess its ok. I trust the scientists opinions. I think this disaster is something for our country to learn from and affects us environmentally, turns us to other alternative energy, and gives us wisdom [to not build] anything potentially dangerous near earthquake zones or fault lines."
Currently, the Fukushima operators continue with radioactive water treatment and are seeking other countries for advice on how to dispose of the toxic water.
About the Writer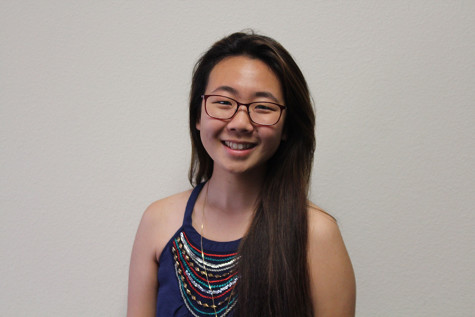 Candace Ro, News Editor
I am a lover of writing. I also like art, but I think I convey my thoughts and ideas better through writing. I look pretty typical on the outside, but...