Samsung Galaxy Gear
Hang on for a minute...we're trying to find some more stories you might like.
Samsung Galaxy Gear
Candace Ro
The first wrist watch product started with Seiko, a Japanese wrist watch company, created the first computer wrist watch, the Pulsar in 1972. Over the past four decades watches have evolved into more complex products such as water resistant, embellished, and camera watches. The newest and latest watch is the Samsung smartwatch.
The new Samsung smartwatch, "Samsung Galaxy Gear," had its first reveal at a presentation in Berlin Germany on Sept. 4. Berlin's Internationale Funkausstellung is one of the world's largest trade shows for consumer electronics. The first sales of the new product in the United States will be early October.
Samsung Galaxy Gear shows a glimpse of the future ideal smartwatch. It measures 1.63 inches diagonally, contains a 320 by 320 resolution screen, and features a variety of colors. Although it can only hold a limited number of apps, it is used as a lifestyle, Android-operated device with a battery designed to last all day. It also has a built in camera and memory of 4GB. However, this snazzy accessory comes at a high end budget of $299.
"I find it hard to justify spending the $299 asking price on an accessory like the Galaxy Gear," said a review on the Verge website. "It's too dependent on its parent device for functionality — which will cost you a fair amount too — and, like all other smartwatches, fails to truly live up to the 'smart' part of its name."
Students don't seem too excited about the Gear because of the lacking 'wow' factor that they expect with any new product.
Freshman Heather Han said she wouldn't be interested in purchasing it because "it's basically the same thing as a smartphone; same price and qualities."
Others also agree that it's too similar in mechanics to a smartphone.
"I think the smartwatch is the same as the phone but smaller. Honestly I wouldn't be interested in buying it because I already have a phone that can hold many apps and tell the time," said sophomore, Bea Javellana.
Some reviewers had a notion that the device isn't reaching its full potential.
"The watch is smart, but not as smart as it could be," said Carolina Milanesi, a technological researcher at the technology firm, Gartner. She continued, "It doesn't look like Samsung pushed the envelope as much as I hope Apple will. Right now, it looks like (Gear) will just provide you with an extra screen that is more convenient to look at than to have to take out a larger device. I don't think that's what consumers want."
Although some are concerned with the functionality and productivity of the Gear, others are excited for the easy accessibility of a smartwatch.
"With Gear, you're able to make calls and receive calls without ever taking your phone out of your pocket," said Pranav Mistry, a member of Samsung's design team, at the Berlin convention.
Sophomore Amaan Virdi said he thinks the watch is "futuristic" and an "advance in technology." Although it's $299, he also adds that he would buy it because it would be compatible with his smartphone and he needs a new watch.
Other companies also try to join this new technology trend. Nissan has also recently released a smartwatch called "Nissan Nismo Watch," targeted toward Nissan car drivers. It focuses on the idea of the driver connected with the car by monitoring efficiency, connecting to Bluetooth, and calculating the rate at which the driver uses social media. Sony's SmartWatch is dedicated to making sure the consumer never misses a notification.  Qualcomm, a digital wireless telecommunications company, came out with a smartwatch called the Toq whose main focus is on energy saving. All these products were introduced early September.
The future of smartwatches is bright and is a new and developing market. Gartner's research projects estimate that wearable smart electronics will be a $10 billion industry by 2016. Samsung may have one step ahead of the game, with an impressive new smartwatch to be released in early October.
About the Contributors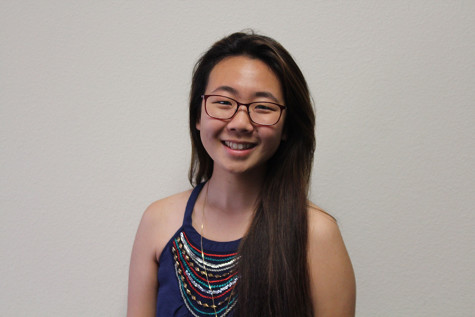 Candace Ro, News Editor
I am a lover of writing. I also like art, but I think I convey my thoughts and ideas better through writing. I look pretty typical on the outside, but...