Gamer's Delight: Black Friday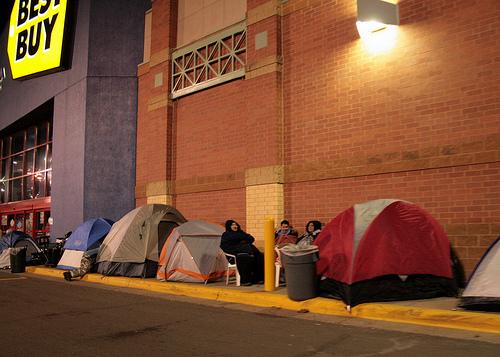 To many gamers, Black Friday is a glorious day. Many wait in lines for hours at their favorite stores to stock up on games, consoles, and other accessories for significantly reduced prices. This year is especially great because of the recent releases of the "next generation" gaming platforms, the Xbox One and the PlayStation 4.
"I look forward to going [shopping] with my friends," said sophomore Nathan Myung, who has been a gamer all of his life. "We're still looking at ads to look where to go, but there are many great deals."
Like Myung and his friends, many gamers are still unsure of what the best deals are, and where they will be.
Here are some eye-catching locations stocked with everything a gamer wants:
Best Buy:   Best Buy is a cornucopia of tech goodies for great prices on Black Friday. They have a wide selection of games and accessories that will be hard to resist. Only problem with Best Buy is that it is one of the most popular stores on Black Friday, making the wait even worse than it should be. Like many other stores, Best Buy is opening at 6 p.m. on Thanksgiving Day (which ruins the point of Thanksgiving, I know). Get there early because many shoppers at Best Buy are gamers. And bring your Thanksgiving dinner with you.
Walmart:   Walmart is great because it has everything you're looking for, and only the most sought-after deals tend to run out. They are promoting their sales with a "1-Hour in Stock Guarantee," so as long as you get there early enough, you'll be safe. They are offering a great selection of popular games as well as accessories. Like Best Buy, Walmart is opening at 6 p.m. on Thanksgiving Day.
GameStop:   Gamestop's sales aren't as good as those Best Buy or Walmart are offering, but they have other benefits that balances it out. For those of you looking to sell your old games or consoles, GameStop is the place to be. They are promoting trade-ins, allowing you to trade in your gear in exchange for cheaper prices and discounts on things you want to buy. Also, GameStop is the only place offering used games, and they are selling them for extremely affordable prices. Unlike Best Buy or Walmart, GameStop will open at midnight, which means you'll be able to go to either store that opens at 6 p.m. before you go to GameStop. Make sure to show up by at least one and a half hours before the doors open, and bring something to keep you awake.
Best Buy, Walmart, and GameStop are your best bets this Friday. Expect to find great prices at each store. Oh, and please don't pepper spray anybody.