Ukraine Revolution
No doubt some of you have heard of the problems in Ukraine. Even more no doubtable is that most of you haven't.
So, I'll start at the beginning.
Ukraine is a country in Eastern Europe that is currently controlled by its president, Viktor Yanukovych. …Wait. No, no it's not. Let me rewind a bit.
Ukraine is a country in Eastern Europe that is currently divided between the freedom of the West and their loyalties to the East, particularly Russia. There is a state of turmoil in Ukraine that can only be described as a mercurial civil war. The capital city of Ukraine, Kiev, is A.K.A. the mother of all Russian cities, so it's no surprise that is the main destination for the conflict—
one that started in 2008. Russia had been in war with the country of Georgia, and their dear "friends," the Ukrainians, supported and sold arms to their enemy! According to a Russian investigative committee, 200 people in the Ukraine National Assembly and "full-time servicemen of the Ukrainian army" aided Georgian forces during the fighting. Ukraine denied this.
Then, during a Jan. 2009 dispute about natural gas prices, supplies of Russian natural gas through Ukraine were shut down, because according to then Russian Prime Minister Vladimir Putin—now President:
"Ukrainian political leadership is demonstrating its inability to solve economic problems, and […the] situation highlights the high criminalization of [Ukrainian] authorities."
Ukraine replied, what Putin said was an "emotional statement which is unfriendly and hostile towards Ukraine and the EU member-states." Russia portrayed Ukraine as an aggressive and greedy state that rather liked their enemies and exploiting their cheap gas.
In Aug. 11, 2009, then Russian President Dmitry Medvedev videoblogged an attack on Viktor Yushchenko, Ukrainian President, saying it was his fault that relations between the two countries had soured. Viktor wondered why Russia ruled out any responsibility in the matter.
Then, on Oct. 7, 2009, Russian Foreign Minister Sergei Lavrov thought it'd be cool if Russia and Ukraine set up some joint ventures and actually agreed on stuff. In 2010, Ukraine got Russian gas back and after an election in the Ukraine both Putin and Medvedev said they liked the new Ukrainian President Viktor Yanukovych more than Yushchenko.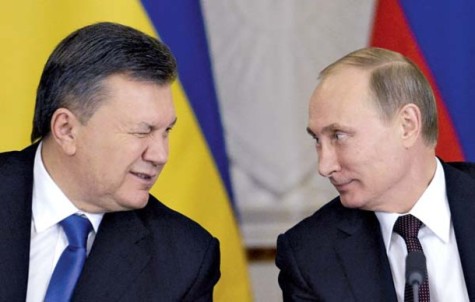 Sadly, in July 2013, a Russian coast guard boat rammed into a Ukrainian fishing vessel and four Ukrainians died, the surviving one being captured, charged for poaching, and never given back. Russia claimed the poachers rammed them instead.
Later last year, Russia stopped all goods coming to Ukraine. Ukraine got closer to NATO (National Americanism Towards Others) and the EU (Economical Underlings), when Vladimir Putin decided to give Ukraine a crap-ton of money and discount on gas so they wouldn't join those organizations.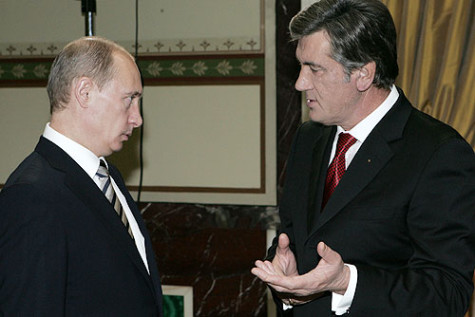 BUT THEN!
The Uk'ni' people didn't want their beloved country going back to Russia's ways, so a mass amount of protesters got together on Nov. 21, 2013 in Kiev demanding closer European integration.
This started what is known as the Euromaidan, or a string of protests of Ukrainians on their gov't and not being as integrated in European matters. Nov. 24, 2013 is when the first clash between the protesters and police happened, and Nov. 30 was when things really escalated. Police used batons, stun grenades, and tear gas and attacked both protesters (most of whom didn't fight back, surprisingly) and innocent civilians.
Minister of Internal Affairs Vitaliy Zakharchenko claimed that "riot police abused their power" and he'd look into the matter; harsh punishment'd come if there are calls of mass disturbances.
In an official statement, Ukrainian Deputy Prosecutor General Anatoliy Pryshko confirmed that 79 people were injured during the raid, including six students, four reporters, and two foreigners; ten people were hospitalized. In addition, seven policemen were also injured.
On Dec. 1, protesters rioted a little in response to the police's abuse of their power, and the days following tens of thousands of protesters set up a tent city and according to BBC correspondent David Stern, "They have set up almost a military camp of sorts, and have erected a very impressive barricade around the perimeter of the demonstration". There were even Ukrainian performers to entertain them!
Yanukovych and now Russian President Putin decided to meet on Dec. 6 to talk about "space, aircraft construction, and engineering" (in reality, it was about the Euromaidan and becoming closer to each other). Opposition leader Arseniy Yatsenyuk issued a stern warning towards Yanukovych, saying "If [he] tries to sign anything with Russia about the Customs Union it will lead to a bigger wave of protests."
On Dec. 8, a monument to Vladimir Lenin in Kiev fell, followed by a trend of more destructions of the dear Russian leader.
Throughout December, death, rallies, and marches rang through the streets of the Ukraine.
On Jan. 11, 150 activists met to unite some of the different opposition parties when the Titushky (Ukraine police forces' mercenary support agents) came and terrorized them.
Feb. 22, 2014 has come and gone, and on that day members of the Ukrainian Parliament voted to "remove Viktor Yanukovych from the post of president of Ukraine;" (he has been replaced temporarily by acting president Oleksandr Turchynov until the Ukrainian presidential election in May), and is blamed for all of the death that has happened because of the protests despite claiming he hadn't even controlled the police when they shot protesters. Two days later, a warrant for his arrest was issued, accusing him of mass murder. Yanukovych fled to Crimea (a Ukrainian peninsula divided between Ukrainian and Russian control) and then to Russia, who was formally asked to extradite him on Feb. 28. He has said that his "deposement" was illegal and not official; he is still the President of Ukraine.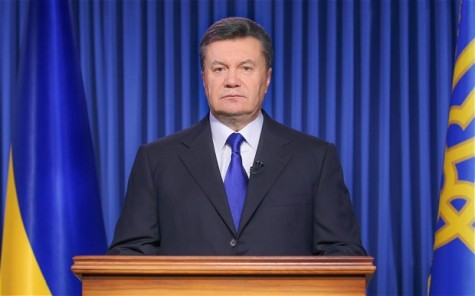 Then, on March 2, Putin said that he was declaring war on Ukraine. Later, Yanukovych asked Russia to send troops to Ukraine to protect civilians.
Current acting Ukrainian President Oleksandr Turchynov later sent troops into Crimea, a country formerly controlled by Ukraine who wants to leave them and go to Russia, when Russian forces ran the Ukrainians out of Crimea. Russia was ousted out of the Group of 8 industrialized democracies by the United States and its allies for their lightning annexation of Crimea. Now, it looks like Russia may be poised to attack Ukraine and the United States doesn't like it one bit.