No More Food Day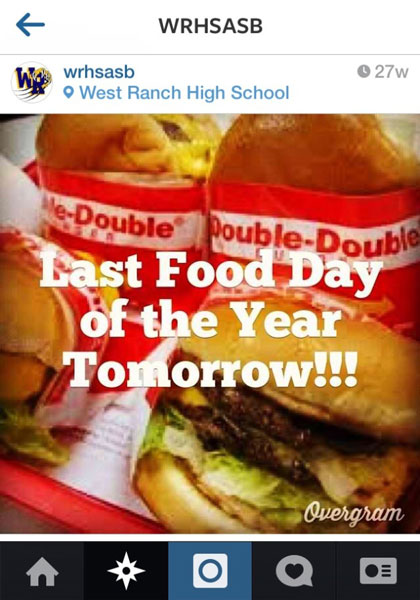 Remember when students rushed to the quad area like a herd of buffalos and trampled one another in search of food? Ah, the wonderful Food Day. On this day, student groups sold foods from various restaurants. In past Food Days, clubs have sold burgers from In N' Out, refreshing smoothies from Juice It Up and more. Many groups have raised more than 100 dollars each time, helping out their club budgets.
Todd Arrowsmith, ASB Director, confirmed that there will be no Food Days this year.
"With the new healthy food guidelines sent down from the State of California, most foods that were sold in the past food days would not be allowed to be sold on our campus. Basically the only thing you could sell at food days would be carrots and celery."
Upon hearing the news of the Food Day cancellation, students could not hide their disappointment.
"I surely enjoyed the Portos and biscuits from Red Lobster. It was all delicious food and an efficient way to advertise clubs around campus. [This] is unfortunate," said junior Jonas Katona.
The Special Olympics club has raised a lot of money by selling food from Hungry Ninja for the past few years.
"The Special Olympics is a non-profit organization that does not charge their athletes to participate in their programs. With this said they mainly rely on donations from fundraisers and the community.The lack of food day is definitely a loss in terms of raising donations for the organization, but we will not stop fundraising," said club officer Andrew Arcilla.
Although they will not be able to earn those extra dollars, clubs will not be completely deprived of profit. Mr. Arrowsmith implanted a new hope for club members.
"There are still many ways for clubs to earn money. Clubs will have to come up with creative ways to raise money such as hosting food nights or selling spirit items at athletic events," said Arrowsmith.
Although this is a new change this year, students will have to accept the policy and think of new ways to maintain their clubs. New year, new rules. Right, Cats?