Welcome to the Freakshow
Hang on for a minute...we're trying to find some more stories you might like.
On Oct. 31, West Ranch hosted the annual Halloween rally, one of the most anticipated rallies of the year. With a theme based off the TV show "American Horror Story," the rally succeeded in giving students and staff the chills. Giant posters with spooky pictures covered the walls while a creepy, Halloween tune blared on the speakers.
Dressed up in their costumes, students rushed to find seats. The crowd was more hyped up than usual and that excitement increased with Todd Arrowsmith, the ASB director, grabbed the microphone. As cheers from each class rang in people's ears, the rally officially began.
Makayla Rhodes, a 12th grader and ASB rally coordinator, hosted as the ring leader of the rally. In an all-black attire, cheer showcased their impressive skills from the very beginning when moving in a circle with one person standing on top of another. Shouts and cheers ensued from the crowd as cheer members performed multiple backflips and frontflips.
The hip hop team also impressed with their smooth dance moves. Members garnered attention with their unique Halloween costumes and performance with creepy, Halloween-themed music.
With a charismatic attire, the dance team performed to a more hip-hop style of music. They ended with a strong, lasting impression and left the spotlight, with cheers trailing behind them.
The drumline performed last and got everyone jumping up and down to the exciting beat. Three of the members performed upside down and received loud cheers from the crowd. Dressed in white suits to protect their clothes, four drumline members passionately pounded on drums filled with colored water to create a spectacular water show.
In between the performances, ASB set up exciting games for students to participate and win prizes. Six students won prizes from the Halloween raffle. These students included Evan Block, Emily Arshonsky, Lauren Spector and Jack Pearson. Prizes included two premiere tickets to the "The Hunger Games: Mockingjay Part One" premiere along with a Starbucks gift card.
Two students' legs were tied to one another in a twin race, ending with the junior class victorious. A few members from cheer competed in the bearded lady race and the rally closed with the a pie thrown at our principal, Mr. Crawford.
About the Writer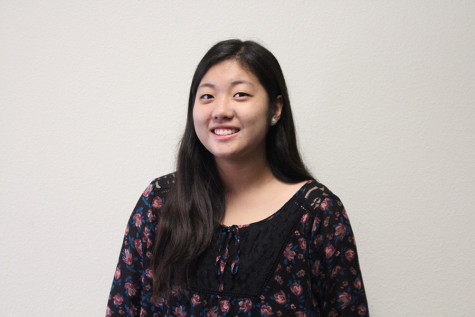 Sydney Chang, Opinions Editor
Hello I'm Sydney Chang, a senior and co-editor of the Opinions fam! I love to eat, eat, and eat. Hit me up if you want to go to Disneyland. I am so excited...