8th Annual Literacy and Arts Festival
Hang on for a minute...we're trying to find some more stories you might like.
Festive Christmas caroling, the smell of freshly made international cuisine, and brightly colored balloons carried by energetic children –– this is the annual Santa Clarita Literacy and Art's Festival.
From Book Swaps to an Instrument Petting Zoo, the festival provided various ways to educate and entertain children and adults. The booths of activities were located at the library's parking lot and even extended to both floors of the vast library. Children especially enjoyed interactive Stone Soup Story Time and created crafts such as Green Eggs and Ham. Kids also experienced cool activities such as Journalist For a Day, where they were asked to interview various fictitious cosplay characters roaming throughout the library such as Captain Hook, Elsa from Arendale, Alice from Wonderland, Sherlock Holmes, and Dorothy of Oz.
Not just for entertainment, these fun and engaging activities also served a greater purpose for children and parents.
"I believe that this is a really great opportunity to show the benefits of education and family to parents in a relaxed and fun setting," said Newhall Library Volunteer Coordinator, Margaret Fedor.
The festival also featured several interesting attractions such as Toast Murals, Post-It Art, and Remo Drum Circles. Not only did adults and children enjoy participating in activities, but also many student volunteers of Santa Clarita enjoyed it as well.
"I really liked volunteering here this year because I get to support the library and all the many opportunities they provide for the community. It's also great to just work with other volunteers, parents, and children," said Academy of the Canyons, AOC, senior Megan Schneider.
Many volunteers engaged in the making of this festival, and over half were teens. Throughout the day, students from high schools all over the Hart District came to participate in and enjoy this communal event.
"This really was a great opportunity to help the community and to have some fun," said Valencia sophomore Claire Williams.
Through participating and attending the festival, volunteers and attendees were introduced to the benefits of the library. However, volunteering for this event not only showed support for the community, but also provided a chance for volunteers to grow as leaders.
"I think volunteers, especially at an event like this, can build character and learn how to communicate with all sorts of people just by exposing themselves to others," said Fedor.
Highly anticipated throughout the year, the Literacy and Arts Festival was a great success and many people look forward to enjoying this communal event next year.
About the Contributor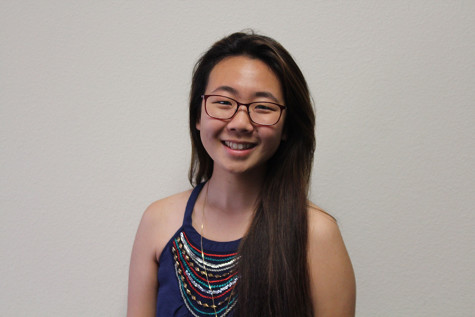 Candace Ro, News Editor
I am a lover of writing. I also like art, but I think I convey my thoughts and ideas better through writing. I look pretty typical on the outside, but...