Winter Formal in Wonderland
Hang on for a minute...we're trying to find some more stories you might like.
Bedazzled dresses, perfect music, flashing lights, and Wonderland all point to the first anticipated dance of the year: Winter Formal.
This year, the dance was held in the small gym, decorated with playing card soldiers, oversized furniture, and plenty of red lounge sofas. The event featured a photo booth, dancing, and food, all of which were greatly enjoyed by attendees. Some students embraced the Wonderland theme and wore colors of light blue, red, or black while others simply showed off their fanciful attire. The dance attendance was smaller in number this year, but students had just as much fun as any other year.
"I really enjoyed the photo booth because photographs capture memories that will last a lifetime. I also loved the theme because I like the fact that Alice in Wonderland is all about using our imagination and creativity," said senior Lauren Byrne.
As the clock's hands turned to 10:30, students gathered on the dance floor and cheered for the grand coronation. After everyone on the court was introduced, the crowd anticipated the crowning of their Formal King and Queen by our principal, Mark Crawford. Blake O'Rullian and Haylee Fricke was crowned Winter Formal 2015 King and Queen.
"I was honestly really surprised; I totally thought I had no chance of winning with all these great people on court. It was a really cool experience and something I'll remember for a long time," said O'Rullian.
Shortly after the crowning, glamorous Wonderland was transformed back into the typical small gym. Students left with smiles on their faces and left wondering how much fun next year's Winter Formal will be.
About the Contributor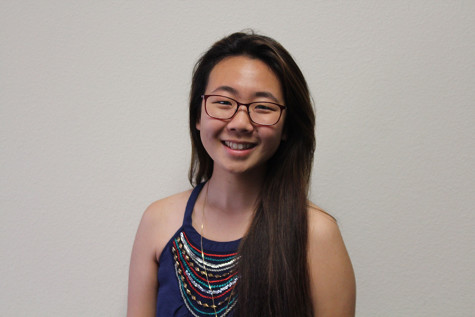 Candace Ro, News Editor
I am a lover of writing. I also like art, but I think I convey my thoughts and ideas better through writing. I look pretty typical on the outside, but...