Open House 2015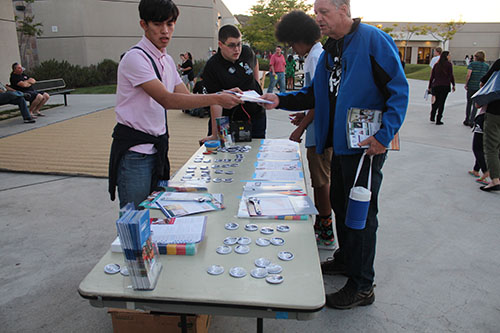 Open House, an annual event at West Ranch, was held again to great success on Thursday, April 17. Among the meandering crowds of parents and students were fresh-faced eighth graders touring their future high school.
"I got to see a lot of my friends while getting used to the school," said Rancho Pico eighth grader, Jaesung Park.
In lower campus amphitheater, multiple performances were put on by groups from West Ranch's performing arts department such as the orchestras and bands. A mini festival was also taking place by the foreign language classrooms where students and their parents sampled French and Spanish cuisine.
Up on the upper quad, the fine arts department did live demonstrations of artists working, and there was also a display of AP Studio Art work.
Multiple clubs on campus such as Wildcats Against Cancer, Gay Straight Alliance, and the Robotics Club set up information tables on upper campus, answering questions about their club and about high school for eighth graders. The Robotics Club also gave a flashy demonstration of some of their projects.
As the sun sunk past the horizon, huge lights were wheeled out, and the event continued on in front of the backdrop of a dark blue sky.
WRTV demonstrated live for parents, and the dance team also did a stellar performance as usual for parents and students to see.
In some cases, in order to encourage attendance, students were told to bring their parents and complete an assignment during open house for extra credit. This led to a jam-packed AP Chemistry classroom, as students eager to save their grades filed into the classroom.
"I came for the extra credit," sophomore Jean Woo Mok stated, "but also the free food was good. And it was funny seeing my mom and dad unable to do any of the problems for AP Chem."
The night overall was enjoyable and a great way to start closing the year, a first-rate way to showcase all of the achievements of West Ranch students this year.