Teenage Drinking: Why Not?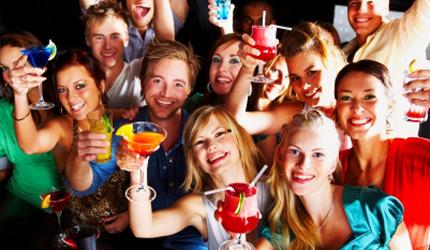 It's Friday night, and for Jeremy, a high school senior, that means that it's party time. He's been going to parties ever since he hit sophomore year, and partying has become a part of his identity. For him, parties are his weekly getaway from the stresses of reality, as he can catch up with friends, make new friends, and forget about school. Most importantly however, Jeremy can drink at parties. He loves drinking; ever since that first party in sophomore year, he's developed a love for alcohol, and getting drunk is one of the top reasons that partying is important.
Unfortunately, Jeremy's story is not unique to him. Underage drinking affects nearly a quarter of teens between the ages of 12 and 20, according to a 2012 report from the Centers for Disease Control and Prevention (CDC). Slotted within that demographic of teens as a junior in high school, I see the effects of this first hand: many of my friends now make up part of that percentage, and I find it's easy to convince myself that underage drinking is a norm of high school life. That's the saddening part. The ever-persistent high school party culture has ingrained in teens the idea that "everybody does it." In no way is it shocking when one hears that so-and-so got drunk last night.
Health teacher Terri Sage also believes that the desire to drink has other factors.
"Curiosity is definitely a reason, and teens do it to feel good, reduce stress, fit in, relax and to feel older," she said.
Thus, drinking is "okay" on the moral compasses of high schoolers, but teens are seeming to neglect the health consequences involved with alcohol consumption, especially at such a young age. Teens are especially prone to health concerns because parties are usually associated with binge drinking.
"Studies show that teenagers specifically drink to get drunk or wasted. Adults drink in social situations. Getting drunk is not usually their reason for drinking," said Sage.
Other consequences are always possible. They can range from alcohol related accidents (driving under the influence, unplanned sexual activity) to other long term effects. These long term effects cover a wide spectrum; the list includes high-blood pressure, stroke, liver disease, nerve damage, ulcers, alcohol dependence and malnutrition. Also, the developing brain is only negatively affected by the consumption of alcohol. These serious risks are dismissed by teens as something that only afflicts older people, but doctors report that the habits that eventually lead to those unwanted consequences start now.
"I used to drink," said a junior student who wished to be anonymous. Though she was never a heavy drinker and was never involved in any sort of drinking related incidents herself, she and a couple of her friends no longer drink because they started to realize that the act is "pretty stupid."
"I first stopped drinking so that I could drive back home safely after a party, but then I noticed that I could still have fun at parties without drinking," said the student. "The main reason I now hold for not drinking is because I think the habits we create now will continue for our lives, and I don't want to create bad habits now, especially [when] thinking about college."
With assemblies like Every 15 Minutes, administrators are doing their jobs on trying to convey the seriousness of the possibilities that result from drinking. Though it is true that not every case ends up in a DUI incident, it is also true that many of the harms go unnoticed.
To those of you who are aware of these consequences, don't be afraid to be the person who reminds everybody else. Though it may not be the cool thing to do, the precautionary steps should be taken to prevent anything serious from happening. Here, the cliched phrase "better safe than sorry" applies.
Whereas underage drinking will always remain an issue among high schoolers, teens must start to recognize that it has its consequences.