Santa Clarita Valley Fires
Jay Park, Staffer Reporter
September 14, 2015
The California weather has been keeping people next to their air conditioner all summer. To make things worse, this heat has fanned the flames here in Santa Clarita Valley, and quite literally. Several wildfires have caused troubles for cities near us. These fires impact us more than just burning habitats.
You have probably heard of the Calgrove Fire a few months back, and it completely devastated the area. It started out at 1:15 p.m., and it the matter of 15 hours, it grew to approximate 415 acres of raw inferno. Thankfully, by that time, the Los Angeles Fire Department tweeted out that the blaze was 95 percent contained — which means they lessened the heat output and reduced the oxygen and fuel in the area to prevent further spreading. You probably remember the massive traffic this had caused and the public announcements to stay indoors to prevent inhalation of the ashes. In the end when everything had died down, 1,000 people and 500 houses had been evacuated.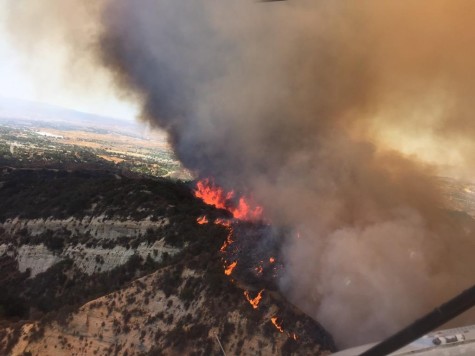 There was another fire as well near the Castaic Lake just a few weeks ago. The fire, covering 300 acres, burned down six buildings of the closed Warm Springs Rehabilitation Center. The dry florae allowed the fuel to very quickly spread as it tripled in size in just over an hour. Nearby ~500 residents were evacuated to West Ranch High School's gym during the fire. Thankfully for these people, it was contained within three days.
"It was pretty annoying to have to stay indoors for a couple days, I couldn't even go outside to walk my dog," said Daniel Yashin, a sophomore.
These fires were just some of the fires that happened in California. According to statistics from California Fire, this year had a significantly larger number of fires, 1522 fires higher from the average 3027 of the past five years, totalling up to a total of 4549 fires this year. Extreme temperatures along with four years of drought and parched vegetation allowed for any sort of flames to pick up speed quickly.
Sometimes, the fires are not the problem, but the smoke itself. When fires burns wood, it releases biomass wood, which contains a pollutant that can be harmful to our body both short-term and long-term such as irritations and heart conditions. In some rare cases, premature deaths have been recorded. Fires also increases temperature, which leads to more fires theoretically. Not only that, the number of bacteria and pathogens increases in water bodies. It is of utmost importance that we should try to avoid these fires. But how?
Because of the chaotic situation a fire creates, the best thing to do is to remain calm and wait for news and updates on the fire. Hasty decisions only lead to even more mistakes. A call for an evacuation will be publicly announced if the fire becomes severe enough. The evacuation will follow this sequence: detection, decision, alarm, reaction, movement to an area or refuge or an assembly station, and transportation. During this process, calmly follow the disaster management officials for maximum efficiency. Without this orderly process, the panic would hurt people as they are trying to flee the fire.

Fortunately, as the temperatures start dropping, the number of fires will diminish, but it does not hurt to be prepared. Preparing for a disaster improves reacting to any sort of threat. Get ready with a small supply of non-perishable foods, water, a flashlight, a hand-generated radio, and some emergency set of clothes and blankets. So in an emergency, stay as safe as possible by being calm and following evacuation orders, and carry on.