Campus Beautification Project
  It's a known fact that teenagers dread going to school. Yes, we would rather be out with our friends, going shopping, spending time at Magic Mountain or the beach than be sitting in a classroom, reminded that when we get home, the schoolwork doesn't end. Despite our resistance, we go to school five days a week, for the majority of the day. So why would over 50 students be willing to head to school on a Saturday for four hours in the morning? Community service hours for NHS and Key Club? To spend time with friends?– the answer differs for everyone. However, they came out and supported the school with the Campus Beautification Project.
  The Campus Beautification Project is a community outreach program to restore life on campus. West Ranch students brought their best garden tools and went to work, pulling weeds, turning soil, and planting a variety of drought-tolerant plants. The work was divided into two separate days, March 19 and April 23.
  The first date, students raked through all of the soil in and around campus and pulled out weeds. Everyone who volunteered earned their day's work, hunched over planters, with the energy-draining sun up above. One of the devoted campus groundskeepers helped transport the landscaping waste and assistant principal, Dr. Juliet Fine helped oversee the work.    
   Ashley Ku, Mya Davis, and Ghabriella Wright all came to me at different points in times because they had different projects they were working on. I was more of like a soundboard for them. It was all student-driven. It was all of their ideas but I had to help with connecting them with people and working out the logistics of things that would require adult supervision and some sort of bureaucratic process such as a budget request for the district to pay for some of the plans or asb funds. Also, we worked together to meet their timeline. I was like a coach in making sure that they were able to complete their project in their timeframe. So really, I was a soundboard and a coach, but they did everything," said Dr. Fine.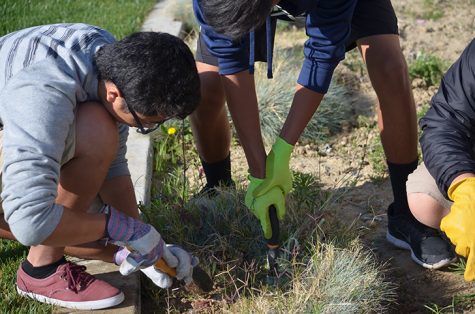 On the second date, the mulch was replenished and plants such as lavender, jasmine, iceberg roses, orchard rock roses and honeysuckle were added. Although West Ranch has only been around for ten years, the landscaping work was much needed in the midst of this ongoing drought. Current weather conditions have had an effect on the campus, drying out soil in the planters and depriving the land of greenery. Three students acknowledged the crisis and took action.
  Senior and president of the H.E.A.T. club on campus, Ashley Ku started it in her sophomore year when she founded the club and began looking for ways that students could get involved with environmental projects. She then approached Dr. Fine and together they developed a plan to restore the campus' landscape.
  Freshman Boy Scout, Mya Davis was also drawn to beautifying the campus but for a different reason. He has been striving to earn his Eagle Scout rank.
  "The Eagle Scout ranking is for the organization Boy Scouts. It's the highest, most prestigious level you can achieve, though not too many do," said Davis.
  The third leader, junior Ghabriella Wright, helped organize the Campus Beautification Project for Mr. Manalastas' 20% Time Project, where students contribute 20% of their time in class working on something they are not familiar with.
  "I was already thinking of doing a planting project but I was planning on doing it around my church. And then Mr.Man suggested that I do it around the school instead. So I went to Dr.Fine and she told me that she had two students, Mya and Ashley, and that they had the same vision. So that's when we started working together," she said.
  The three didn't know each other beforehand but after working on the project together for a long six months, they have grown to be friends.
  "I think we all met in November, so it was a while ago. It just took some time to put everything together. We originally had earlier dates but stuff happened," said Wright.
  Ashley agreed and said that even though she "came up with the idea in Sophomore year, it took awhile to plan everything in detail. Since I met them, everything has been fast and Dr.Fine is giving us a lot of help to get the project done." Mya explained that the planning stage has been the longest "only because we wanted to make sure that everything was right for the school. We didn't want to sloppily put it all together."
"
I went out to the fire department, the police department and anybody that [he] thought would help because it is really a service project for the community, by the community. We really wanted to make that appeal to everybody."
— Mya Davis
  Getting the funding for the project took a lot of the planning time. The trio asked several clubs on campus for donations to help out since the point of the project is to get students involved both physically and financially. There was also a fundraiser at Pizza Rev, where 20% of the proceeds went towards the project.
 "I went out to the fire department, the police department and anybody that [he] thought would help because it is really a service project for the community, by the community. We really wanted to make that appeal to everybody," Mya said.
  They reached out to students, looking for volunteers by handing out fliers and sharing the project on WRTV. In exchange for the volunteer work, students could get authorized community service hours. The idea was pre-approved by NHS advisor, Dr. Idowu, and Key Club advisor Mrs. Makan. Mya said that on the day of the event "people just signed in: the time that they came and the time that they left. Then at the end, we calculated all the hours and people brought their NHS and Key Club hour sheets so Dr.Fine signed those."
  "My biggest concern with students is their follow-through, their ability to come up with an idea, and be inspired by one thing. Students are extremely creative at this age and motivated and hardworking but the follow-through sometimes isn't there, but these three incredible individuals are so driven and so motivated and so inspired and they really let this project, this idea of helping the community drive their work," said Fine.
  After all the hard work, senior Ashley Ku's one wish is that students at the school continue the project years later. Unfortunately, she was not able to put it on her college application due to deadlines. Though, she says "it will create a foundation for her college experience because [she is] interested in doing more projects like this and studying Environmental studies and International Relationships."
  Mya Davis says that he really enjoyed working on the project because "It was really a great learning experience for all of us from planning, to organizing, to executing the whole thing. We learned things and met new people."
  Dr. Fine said "this is a second home to me; we want it to be a second home for students, and we live in such a beautiful community. Mya, Ashley, and Ghabriella would all agree that if there's an area of the campus that isn't just as beautiful as the rest of the community, we need to work on it, as small as it may be. Students should be happy and pleased and comfortable being here."
  Overall, the Campus Beautification Project was a great way for students to get involved and enjoy the campus they spend so much time at.
Sorry, there are no polls available at the moment.