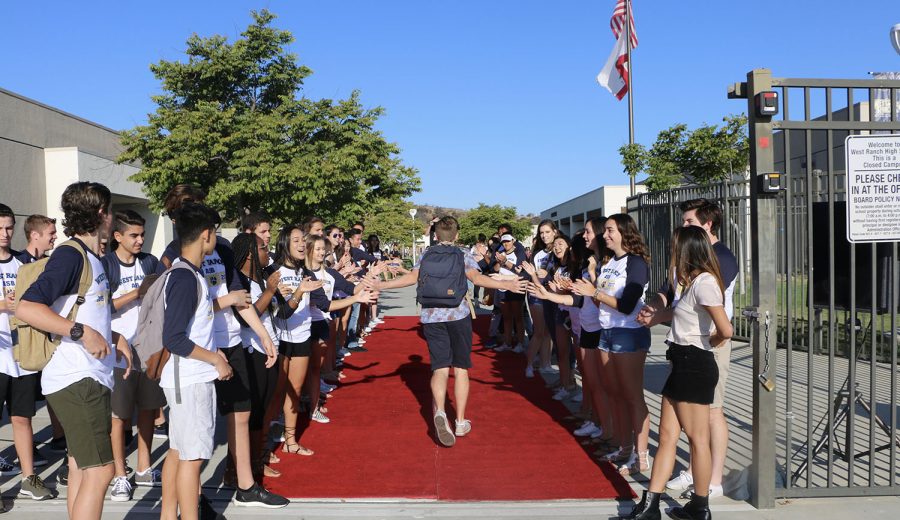 Although Aug. 11 was the first day back to school for returning students, it was also a fresh beginning for the class of 2020.   
 Beyond front gates and the red carpet surrounded by enthusiastic ASB members were screaming friends reunited, classmates comparing schedules, and students looking for where they need to go.
 "I'm not going to find my classroom. I don't know where I'm going. Do you know where the 300 building is?" said freshman Chika Ma.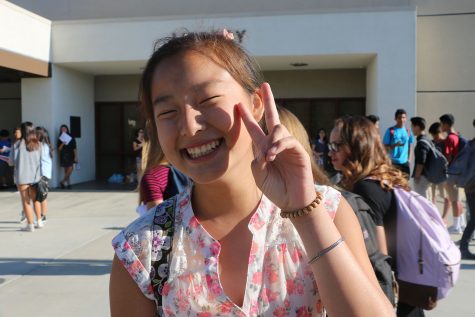 Her expression, scrunched up with worry and uneasiness, resembled the other newcomers who were having a hard time finding all of their classes around a larger campus.
  On the other hand, freshman Katie Kim had her own priorities when entering the school.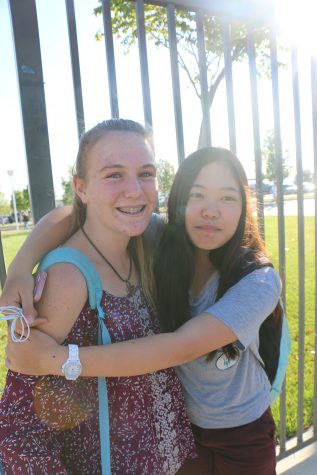 "I went to meet with my friends first," said Katie.
 Friends are an essential factor of high school. Like many others who gathered around the upper campus, Katie and her group waited impatiently near the library for the rest of their bunch to arrive. People tilted their heads to get a better view of who had come, and some texted or called hastily to their friends to meet them at a certain area before the bell rang.
Upperclassmen were all too familiar with the mob of new students hesitantly moving around and clumping in between walkways, especially sophomores who had experienced their fair share of butterflies in the stomach when they were freshmen.
 Still, everyone felt a bit of nervousness tingling alongside their growing excitement on the first day of school, whether it was the fear of growing out of their old friendships or having to study for harder.
 "I'm a little nervous to be honest, because friend groups aren't really the same this year," said sophomore Hannah Landon.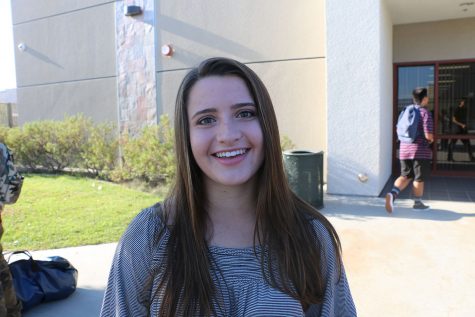 However, positivity triumphs over negativity, and fellow students gave encouraging advice to their classmates in hopes of a great school year at West Ranch.
 "Go out for a sport or something; try to get involved. Make some friends. That's pretty much it," said junior Justin Woodard.
 Not only were Wildcats pumped for their first day back, but French teacher Andrea Gannon was also ecstatic for her classes. As Gannon walked down the steps connecting the upper and lower grounds, she started a conversation with one of her students who had come up to her to say hello.
 "I'm happy to be back. I miss my students. I see their cute, little faces all over. I just met a student. She said, 'Bonjour Madam,' so hopefully my students haven't forgotten everything I taught them last year. Have you forgotten? Do you remember your six important verbs?" said Gannon.
 He tried to list them but stopped after naming two of the verbs.
 Madame laughed.
 "That's two out of six! Woo-hoo!"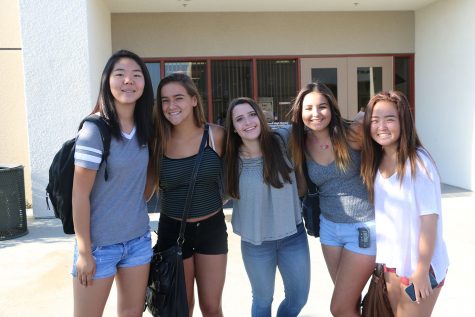 As the school year starts off with new beginnings and laughter, the following days in high school that follow may come with change. Maybe the friendships you've had from the past will grow out or you find a new passion or interest. Change can be good, and you shouldn't be afraid to acknowledge it. While West Ranch may seem scary at the moment, you should experience as much as you can and enjoy the most out of it during these next four years.