Throwing Shade
West Ranch's upperclassmen and sophomores are definitely used to the scorching Santa Clarita weather. During brunch, lunch, PE, or sports practice, the searing heat consistently beats down on West Ranch students. However, relief has come after 11 years; shade structures are being built around campus.
  ¨The shade structures were requested as a response to our Western Association of Schools and Colleges (WASC) document goals from three years ago.  Out of all the concerns at a school, shade was a huge priority for our community," said Dr. Fine, "Even before Mr. Crawford, Mr. Bob Vincent, our founding principal, knew it was important for the school. However, Mr. Crawford was the one who got the ball rolling and began working with the district when they finally secured the funding for this project…officially, it began as a priority item three years ago."
  Currently, these structures are being built in front of the ASB office and downstairs in front of the cafeteria. Although the structure on lower campus is incomplete due to some complications,  the building on upper campus has been completed. The 14-by-14 structures will be more than large enough to protect Wildcats from the dry desert heat.
   While most students are certainly excited for this new project, some are disappointed about the delay. "We should've had them last year, but at least we're going to have them this year," said sophomore Parker Wilson Groom.
   However, the delay was only because West Ranch was concerned for the safety of their students.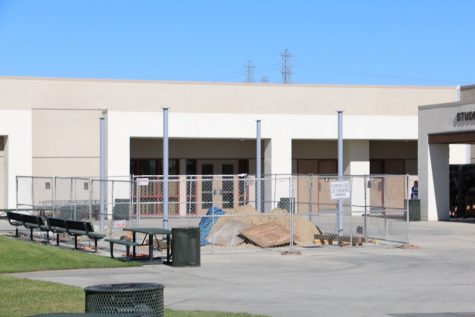 ¨The delays were caused by additional inspections and to ensure the materials were safe for kids on a school campus… Ample time was put into the preparation of the project to ensure the work done would be sustainable and safe.  As mentioned earlier, student safety is always our priority," Dr. Fine said.
   Even some of the freshman are excited for the new shade structures.
  "I think the shade structures are an excellent idea, especially in Valencia where it gets very hot. I'm excited that there will be a shady place for me to stay during lunch and brunch," freshman Kelsey Choe said.
  During your breaks, make sure to stay cool in the shade!