Freshman Elections
 Freshman scrambled to the ASB office during brunch and lunch to vote for their class officers on Sept. 7.
  "I'm voting to support the school. By electing good officials for the school, West Ranch will become a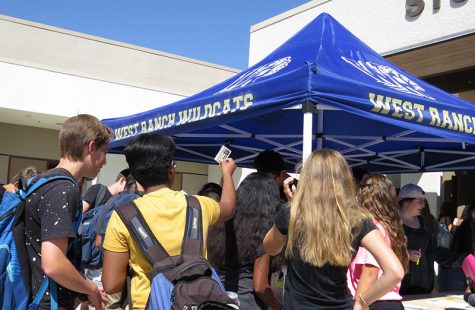 better place," said freshman Dallin Borrowman.
  Running head to head for freshman president were Amanda Baumgartner and Drew Ashlock. For vice president, Neiko Pittman and Abby Trogan competed against each other while Justin Carver and Chika Ma ran for secretary. Darren Eskandar ran unopposed for treasurer.
  Candidates spent the past few weeks advertising their campaign to students up until voting day. Each candidate posted colorful signs, handed out bracelets and stickers with catchy mottos, and spent time going around campus greeting students and reminding them to to vote for them.
  Candidates compelled students to vote for them because of their different characteristics.
  "I want officers that are honest and hardworking. I want them to listen to the students," said freshman April Kim.
  Each of these candidates ran for their positions because they felt that their specific goals would be best for West Ranch and its students.
  "I want to run for vice president because I want to represent everyone at this school," said vice president candidate Neiko Pittman, "I want to make sure that everyone's voices are heard."
  Ballots were filled, votes were tallied, and the results were finally sent to the candidates. Drew Ashlock later posted the results on his Instagram account, @dashlock411. Drew Ashlock was chosen as the class president, Neiko Pittman became vice president, Justin Carver was voted as secretary, and Darren Eskandar became treasurer.
  Congratulations to all the new freshman officers!