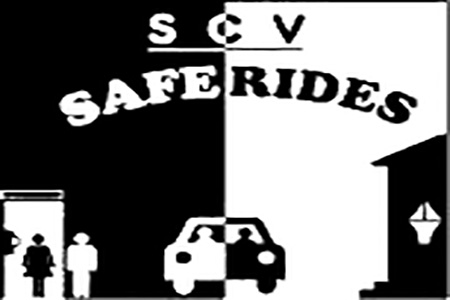 SCV Safe Rides
Reckless driving is a major problem throughout the whole world. On average, according to a study by the Association of Safe International Road Travel, more than 3,000 people die daily in car accidents. With increases in dangerous acts like drinking and driving and texting while driving, driving safely is more important than ever. The following story is part of a series detailing the various aspects of reckless driving.
Everyday, 28 people are killed in drunk driving accidents. Everyday, 28 paramedic teams are called to the scene of a car crash. Everyday, 28 families' lives are changed forever. Drinking and driving, especially underage drinking and driving is a major problem in the United States. In fact, according to a study by the Center for Disease Control (CDC), high school teenagers drink and drive 2.4 million times a month as a whole. This is why Penny Upton was motivated to make a difference in SCV.
"After six local teens died in alcohol-related crashes from June 1985 to August 1986, the community was stunned. Many meetings were held at the schools and churches looking for answers as to how to stop the deaths," said cofounder Penny Upton. "Finally, two parents and a group of teens put together the Safe Rides program."
Safe Rides SCV is an organization that offers free confidential safe rides home for teenagers who are not in a position to drive or who don't want to drive with a potentially unsafe driver.
Since its establishment on Dec. 19, 1986, it is estimated that this organization has given more than 30,000 Safe Rides home, according to Upton.
"Safe Rides has made a huge impact on the community. Before there was Every 15 Minutes, the only program that teenagers responded to was Safe Rides. The number of teens that have died related to DUI has been reduced by 95%," said Upton.
Safe Rides is completely staffed by volunteers that work as drivers, navigators, and phone operators. It takes about 150 teenagers and 20 adults to staff this organization each month.
"I'm not gonna lie; I joined for the community service hours at first, but I stayed because I really liked having a beneficial effect on the community," said senior Brandon Yu, vice president of Safe Rides. "People should talk more about how fun it is to work there. It's the only place where I really look forward to volunteering."
Each month volunteers drive teens home, work at the Safe Rides headquarters, and participate in various events to raise awareness of reckless driving.
"I think Safe Rides needs to exist because teens need a place with absolutely no fear of getting in trouble. "said Yu. "We'll never be able to stop high schoolers from getting hammered, but we can help them get home safely"
While teens may think that driving drunk is their own decision and that it will only affect themselves, one-third of alcohol involved traffic accidents are passengers, pedestrians, or occupants in other vehicles. Additionally, teens are 17 times more likely to die while driving when drunk as compared to sober.
"I helped out at the Evening of Remembrance here in Santa Clarita and I realized there, on a deeper level, that our program really helps teenagers," said senior Mauricio Guitierrez, co-president of Safe Rides. "I saw the faces of many teenagers that passed due to traffic collisions."
Teenagers often disregard driving as being dangerous, but with 243,243 injuries and 2,163 deaths in 2013, according to a CDC study, car accidents are the leading cause of death and injury for teenagers. Seventeen percent of these injuries are related to underage drinking and driving.
"Programs that promote safe driving avoid the word 'accident' when describing traffic collisions. The word "accident" implies that nothing could have been done to prevent it," Upton said. "Usually vehicle crashes are not an "accident" they are the result of a bad choice – someone chose to drink and drive – someone chose to speed – someone chose to text and drive. Please make a better choice."
If you are ever in a position where you are unable to drive, contact Safe Rides SCV at 661-259-6330 for a confidential ride home.