Los Angeles Women's March
January 24, 2017
Approximately 750,000 women and men took to the streets of Los Angeles on Saturday, January 21, 2017 as a sister march to the Women's March on Washington. It aimed to protest the inauguration of Donald Trump just a day before along with other social and environmental issues.  Here are photos and interviews of those that participated in the march. The above slideshow also includes more photos of the day.
---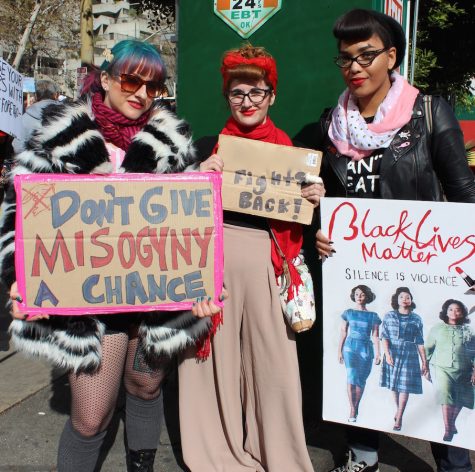 Ashlita (right)  — Glendale, California
"To show that I'm not going to sit here and take this bulls— government and this bulls— election. I am going to do something
I think definitely don't be silent, especially nowadays. If you see something happening to someone else, speak up. Also, there is a quote "I am tired of the things that I can't change and now I am going to change the things that I can't accept."
Karey (middle) — Recita, California
"In my case I actually have a disabled son. This is a very big deal for us. We rely on a lot of funding. He has severe autism. Everything Trump is doing is completely against our family and that we need to survive. Then just our women's rights. I am someone with a preexisting condition. I have a disability. I can't get insurance now thanks to Trump.
Well I went to high school in Arizona which as we all know is the racism capital of the world right now. So when I was going to high school we were having all the walkouts with the immigrants because we had such large number of illegal immigrants. They were walking out of high school. It was high school kids, you're not voting yet, but it was making a point, making a statement and that's what we have been doing since the election. It's making that statement; it's making your voice heard. He lost the popular vote for God's sake by 3 million people. We have about 250,000 today.* Washington is at 500,000. It's going on on every continent. London was at 200,000.** Antarctica even has one going.
*turned out to be about 750,000 marchers in Los Angeles
**turned out to be about 100,000 marchers in London
Heather (left) — Portland, Oregon
"I am here because I am a sexual assault victim and I want to stand up for other women who have been sexually assaulted. I want to show this is not okay and we will not have a president who condones that and gets away with it.
That's what I would say, stay involved. You're never too young to get involved in politics. When I was in high school we didn't have a Gay-Straight Alliance at my school so I helped to start one. You can start by doing things in your school and getting involved in the politics at your school. You can volunteer to help with stuff. You are never too young. Don't give up. Always keep fighting and do what you can. Support local candidates.
---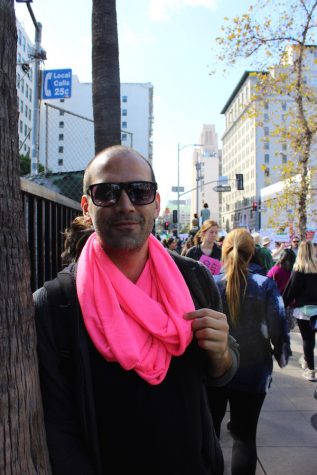 Brian — Los Angeles — 33
"I came here to support my fellow ladies and my girlfriend. It's pretty disgusting the kind of [presidential] race that was run. It offended so many types of people that I care deeply about.
---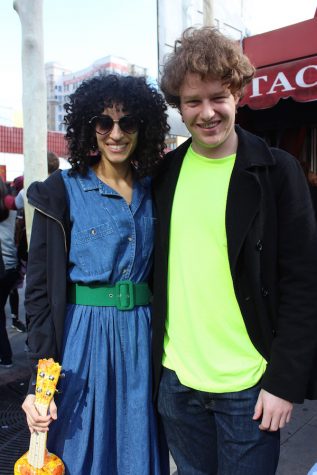 Joanna (left) — Santa Barbara, California
"After this election, I realized I want to start being more vocal with my beliefs and this is a way to do it. To come together with a whole bunch of people and realize that I am not alone in wanting equality and positive change in the world. Let everyone know that it is important, and that a whole bunch of people think it is important.
It matters. We matter. We all matter. It's important to speak your truth because that's what we are all here to do. We can't just stay quiet.
Ian — Northern California
"I am here to support women. We don't yet have equality in this country and that is ridiculous. We need to close the wage gap. We need to support reproductive rights.
It [young people coming out to support] is really, really, really, really, really necessary. Especially if you are of voting age, but even if your not, you need to know what's happening and make your voice heard.
---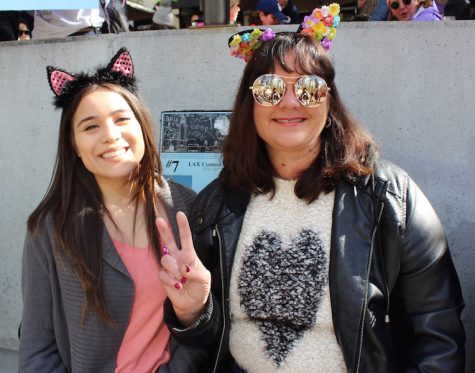 Blanca Mersic (right) — Los Angeles, California
Super excited to be here. I feel like its historical. It's an opportunity for women to come together and people to show kindness. To have your sign up for what you believe in. To hope for the future. To have a voice. If you are going to be a part of society, part of the structure, you are going to have to put in effort and stand up for what you believe in and never give up.
---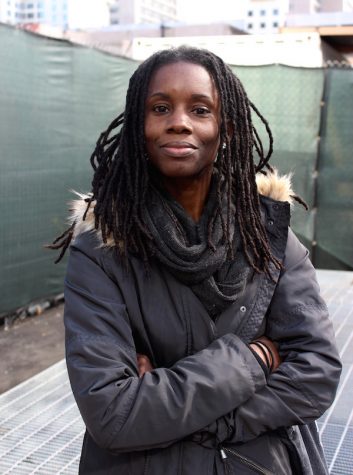 Trisekia — Bloomington, California
"I came here to fight against racism and to fight against the racism especially towards black people. To have my presence heard is really important. As you can see there really aren't a lot of black people here today so I am here to represent.