Rally in the Making
   On Aug. 22, the campus is dead quiet, empty of its students after 3 p.m. Yet, amidst this silence, muffled voices and the clink-clanking of paint buckets can be heard from afar. In the large gym, ASB is putting their blood, sweat, and tears into designing diverse decorations, plastering huge posters onto walls, scheduling various performances, and going over their routine for the upcoming rally.
   As members scramble back and forth — tape stuck to their fingers — it is clear to see that creating a rally is tough work.
   From the first day of school, ASB comes together during tutorial, lunch, and even after school to hold several rally-based meetings, such as planning out future activities and games. Each rally is planned months in advance. The nights before a rally, however, is the most strenuous.
  "Most of us are at school from seven in the morning till ten at night without going home. So it takes a lot of time management, which I think is something that we've all learned." said Executive Board President Izzy Crume.
  Through poster parties, members gather in and out the classroom to create colorful, themed posters.
  "We have to do a good series of those in order for us to have enough posters to take up the entire space," said senior Caitlin Varsam.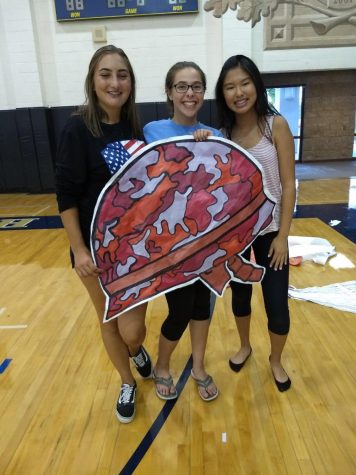 Getting decorations done needs effort and dedication, taking weeks to make. They are essential for the spirit aspect of any of ASB's rallies.
  ASB strives for every class — from freshman to senior — to show West Ranch pride and feel proud of their school whether it be at a volleyball game, school play, or marching band competition.
  "Honestly, the reason why we do rallies is not for the satisfaction of our own. Everything we do is for the greater good of the campus." Crume continues, "Our motto this year is, 'United We Stand,' uniting the students from group from to group, so that everyone from freshman to seniors can be excited about one thing — and that's school spirit."
  Rally commissioners like Taylar Hollomon make sure of this by being in charge of picking out a theme, choosing the games that ASB will host, and selecting which students will perform. Their position means to execute the rally perfectly, planning together an exciting time that all students will be able to enjoy.
  "I think my biggest goal this year — being my last year — is making sure that when I leave, the student body is extremely spirited and proud of their school and willing to show up and show out," said Hollomon. 
     For ASB newcomers such as Pratika Prasad, learning the gist of the rally process as well as finding where all the materials are can be overwhelming at first.
  "It is kind of hard for me to figure out in my class where to put posters, where to put everything," said Prasad. "But a lot of the seniors and upperclassmen have helped us, and we really succeeded."
  Adviser Tracie Priske looks out from behind, helping her student leaders if there are any troubles and making sure they stay organized during this stressful period.
  "Once you get a theme, your ideas just start going. So, they kind of bounce ideas off of me; I give my opinion," said Priske. "I always say, 'This is what I would do. Do what you want, but this is what I would do.' So, I try not to decide for them; I just try to guide them."
 Although ASB members create a positive, school-spirited atmosphere that spreads beyond the gym, what truly makes the rally what it is is its diversity. In just a handful of minutes, West Ranch's different aspects can come to life.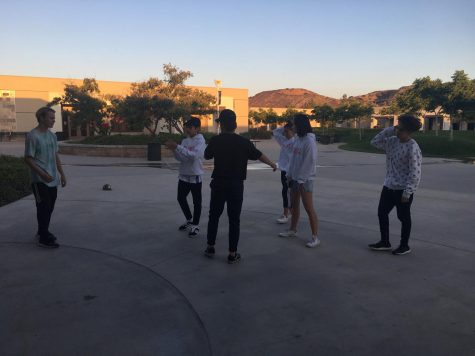 From the hip-hop club practicing all throughout campus a week before to talented singers performing the national anthem, the rally in the making is nothing without every piece — both big and little.
 It is a time for cheer and dance to show both their artistic and athletic abilities.
 It is a time for West Ranch Television to showcase their filmmaking talent.
 It is a time for all students in every grade level to come together.
 It is a time for West Ranch to unite as one.