The Parents are Back in Town
September 13, 2018
  It was 6 p.m. The sun was about to set. Walking around the school, it seemed deserted without all the students. Everything was gone. Only a handful of humans seemed to be in sight. If only the school knew what would be happening in just 30 minutes.
  On Sept. 4, West Ranch had its Back to School Night where the parents could finally meet the students' teachers.
  The Studio A Jazz band greeted the parents as they walked into the school. They played a few selections of music given to them by their teacher Brian Leff and greeted parents with lively jazz music as they entered.
  After the jazz band gave their phenomenal performance, Bryan Wilson, the Assistant Vice Principal, greeted all the parents and gave them an introduction on what to expect for the night.
 After the introduction, the first period bell rang. Parents started mindlessly walking around, blank stares across their faces as they tried to figure out their kids' schedules and where their classes were located. Many were lost, and all of them were in panic when they realized they only had ten minutes to get to the next class.
  Luckily, ROTC (Reserve Officers Training Corps) was there to help guide all the confused parents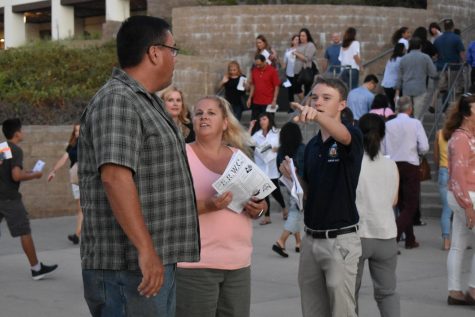 Throughout the night, there were tables set up that advertised clubs in West Ranch. This showed the parents the extracurriculars students could participate in, and how they could get even more involved in West Ranch..
  "I really like West Ranch. The environment is so nice; there are so many places you can be. The students are also really spirited and happy," said parent Amber Davis.
  Back to School Night was really important for the parents, as it allowed them to see what classes their children were taking. It also allowed the teachers to answer questions and talk to the parents about the policies they have in their classroom.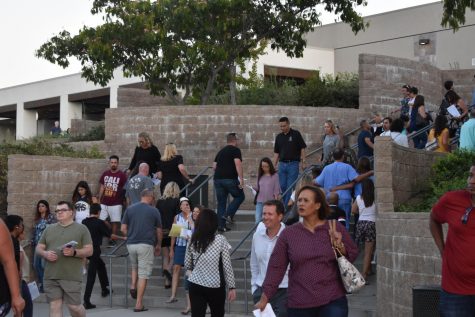 West Ranch has opportunities most schools don't even have: an award-winning band and orchestra, sport teams that go to League, amazing school spirit, and phenomenal teachers. The environment at West Ranch allows all students to thrive with a strong academic education.