Homecoming Rally
On Sept. 14, West Ranch students crowded the gym to witness this year's homecoming rally. The hosts, Lauren Franco, Sydney Schauble, Skijler Hutson and Nick Carson were all dressed up as the main characters from "The Wizard of Oz."
As always, the rally started with the singing of the national anthem, this time by Noelle Miller, and the heightened energy of our pack leaders Lucas Elzer, Joey Goldfisher and Darryl Evans. All the classes showed a tremendous amount of excitement towards the event.
Our cheer team then performed their routine, followed by dance and hip hop, all of which displayed exceptionally amazing choreography that had the Wildcats screaming at the top of their lungs.
But it didn't stop there as the homecoming court was formally introduced. First was Luke Boss and Hope Jin who were accompanied by Luke's mother, Mrs. Janet Boss. Next was Lucas Elzer and Sophie Bobal, and next to them was Lucas' mother, Mrs. Amy Elzer. Following them was Ryan and Jovan Camacho with Samantha Grimes and Maddie Delgado. Accompanying them was the twins' mother, Mrs. Hannah Camacho. Max Lin and Maddie D'errico then succeeded them, accompanied by Max's mother, Mrs. Christine Lin. And finally, Weston Eget and Shelbi Schauble were accompanied by Weston's mother, Mrs. Lynn Eget.
"I'm really excited for homecoming. I'm just also really thankful that I have a lot of friends that are super nice and care about me," says sophomore homecoming princess, Abi Jin.
The hosts then ended the rally with the announcement of the football game later in the day which was going to take place at Valencia High School. The theme for the game was blackout.
"We found out about the rally a few weeks before, but we started making posters around last friday. Yesterday, we had the set-up and for this rally we had the sleepover which we only do twice every year. The theme this year is really interesting; it's a little different than other themes we had," said sophomore Hannah Chung in regards to the rally preparations made by ASB.
About the Writer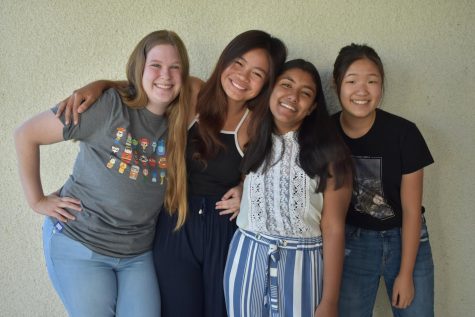 Alexa Empleo, News Editor
Official Senior Citizen without any discounts. Sending all the love to The Paw Print for waking me up both early in the morning and to important issues....