Sept. 11 City Council Meeting
Behind the scenes of Santa Clarita lies City Hall, where important issues are taken care of and crucial topics are discussed. Each day, City Hall is working hard to keep Santa Clarita afloat. On every second and fourth Tuesday of every month, the City Council Chambers opens its doors to the public to participate in its meetings.
   Last Tuesday, Mayor Laurene Weste, Mayor Pro Tem Marsha McLean, and Councilmembers Bob Kellar, Bill Miranda, and Cameron Smyth started the meeting recognizing the people who lost their lives on 9/11. Annie Niednagel, a student at Hart High School, was awarded on behalf of all the students who participated in setting up a memorial for all the people who died on the tragic day. Niednagel and her fellow students woke up before the break of dawn to set up exactly 2,977 miniature American flags to honor those who had died on that day.
   After graciously receiving an award from the council, Niednagel expressed her sincerest gratitude saying, "I'm just so thankful for the opportunity that I had to organize this event at my school. I couldn't have done it without the help of all the students at my school, this is nothing that I did on my own. I want to thank the whole community for coming out and showing support, and I was only six months old when these attacks happened, so I have no first-hand experience and so I've only heard my teachers talk about this event in schools, and I've only read that number on a page in a textbook, so having the opportunity to put 2,977, really put that number into perspective."
   Following this, the meeting was officially called to order. Each council member was called upon to state their presence and a few girl scouts lead the Pledge of Allegiance. A girl scout troop attended the meeting that night to gain a get a better understanding of City Council.
The meeting proceeded along to the award and recognition section of the meeting. The first to be acknowledged by Mayor Weste was a large group of police and firemen who were given a token of the city's appreciation for saving lives amidst the massive flames of the Newhall fire.
"I'm very gratified tonight to read a recognition of our amazing law enforcement officers who responded to the very devastating railroad fire in Newhall. I'm proud to recognize members of our law enforcement community who sprang into action to get community members to safety when the railroad fire broke out on July thirtieth. The railroad fire broke out on Monday afternoon in Newhall and immediately threatened homes as it moved up the hill," said Mayor Weste.
Another set of awards given to Santa Clarita Valley Suicide Prevention Postvention and Wellness Committee for all the work they do and positivity they bring to the city.
"The City Council is going to hereby proclaim the month of September 2018 as suicide prevention awareness month in the city of Santa Clarita," said Mayor Weste.
She then invited a member of the suicide committee to further call attention to suicide prevention. "I'm with the American Foundation for Suicide Prevention, but I'm also a long time resident of Santa Clarita and this particular issue speaks so so deep to my heart. I am somebody's who's lost family to suicide; I'm also somebody who has to struggle on daily basis with depression, anxiety, and chronic suicidal thoughts so I know just how important this particular issue is, and I'm honored and blessed to stand up here with all these amazing passionate people who share in the common cause."
Upon concluding the proclamation, the public participants were brought forward. A few speakers participated, each addressing their own topic that he or she wanted to discuss with the council.
The first speaker began by saying, " It's that time of year again and actually I'm gonna be here talking about both sides, and it's time for the letters to go out to the local home residents.I even have complaints about my local management because they say they have to get everything together on time yet there's one little mobile park home that never gets it in on time…"
This speaker was quite vocal about how she believed the city should be helping her mobile home park and continues to express her concern saying, "You, yourself, said you guys were keeping records of what comes off from the nonstandard. If we have to put it in on time, then so should all the other parks, and also we wanna make sure everything is done, and I think the city really owes it to us!"
A few speakers, however, were not there to report an issue to the council members, but to thank them for all that they have done in honoring the lives lost on 9/11 and bringing attention to suicide.
The meeting ended with each council member finishing with their closing statements. One asked people to sign up for the Santa Clarita's annual River Rally while the other adjourned the memory to someone who had recently passed away.
In the end, the council meeting was a success. One can learn so much about their city and how it actually works. Next time the second or fourth Tuesday of the month rolls around, be sure to attend a meeting at City Hall because you'll learn so much about this city, Santa Clarita.
About the Writer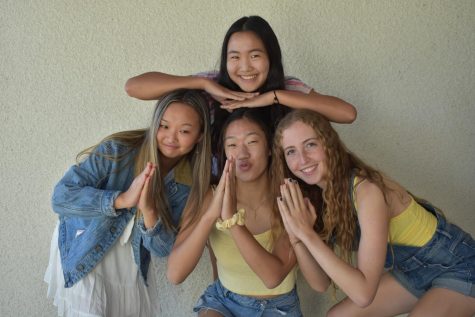 Katie Luo, Design Editor in Chief
Hey I just met you and this is crazy
But here's my number, so call me maybe

605-475-6966