Native American Pow Wow
A long line of booths and stands lined the perimeter of the park, with vendors selling beaded jewelry, leather bracelets and a lot of dreamcatchers. People walked around inspecting each stand with their friends and family, eager to buy some authentic, handmade trinkets. Native American dancers and singers also walked around as well, running the stands and performing for an enthusiastic audience.
On Oct. 6, The William S. Hart County Park held the 25th annual Hart of the West Native American Pow Wow. Some Native Americans wore extravagant clothes, with traditional elements passed down from generation to generation. Others wore regular, day-to-day outfits, and nonetheless ran the show with pride. Many Native Americans also ran information booths, gave out pamphlets and flyers, and proudly walked around, looking at the people that were showing respect for their culture. Additionally, while they ran booths others participated in dancing.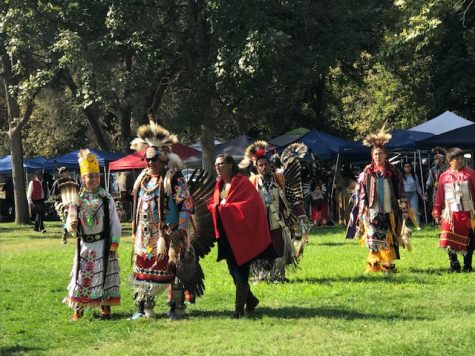 Surrounded by the booths, there was a large open space for the dancers to parade around to traditional music, which was provided by the rest of their tribe by singing and drumming. Each tribe provided their own unique performance, which the audience greatly enjoyed. Additional activities were organized as well, such as a Pow Wow princess contest, to name one. Girls aged 14 to 21 were encouraged to run for the princess title, and the winner walked around with a sash. At any time, people were also encouraged to buy food from the stands, which had a variety of choices to choose from.  In light of recent events, this small event holds even more value because of the rapid diffusion of the replacement of Columbus Day with Indigenous Peoples' Day.
 In California, Los Angeles, Berkeley, Santa Cruz, San Fernando, Burbank, Long Beach, San Luis Obispo and Watsonville all celebrate Indigenous Peoples' Day, according to Time magazine.
The adoption of Indigenous Peoples' Day, with the knowledge that Columbus was the start of the genocide of Native Americans and the spread of deadly diseases, has resulted in increasing Native American appreciation. The Native American Pow Wow is one example of how important it is to showcase tolerance of Native American culture, although we still have a long way to go.