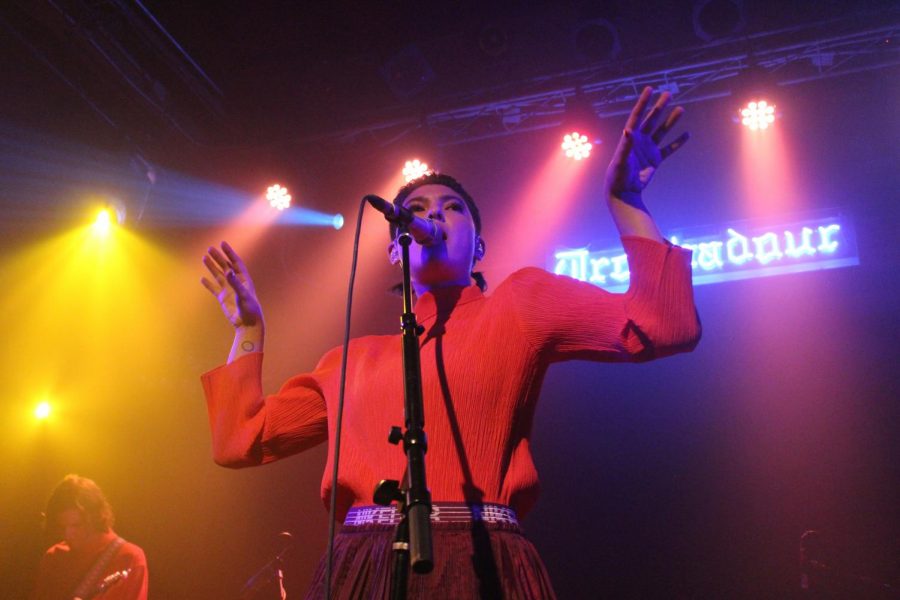 Miya Folick at the Troubadour
November 6, 2018
  On the night of Oct. 22 at the Troubadour, Miya Folick transported the audience away from the struggles of everyday life and into a world full of power and confidence. Her music varies from quick, up-beat songs to those with long, chilling notes that send tears streaming down the audience's faces.
  Folick began making music when she was 20. She said, "I had just transferred from NYU to USC, and I didn't have many friends. I taught myself how to play guitar by writing songs in my closet (so no one could hear me!).  At first it was just a way to pass the time, but eventually I became obsessed with the process." She started her band using Tinder, creating a profile that simply stated, "Looking for a band," an unconventional, yet effective way to go about looking for bandmates.
  Folick's newest album, "Premonitions," — which was released on Friday, Oct. 26. — was produced to add more depth and meaning to pop culture. She said, "I wanted to make an album about the aspects of life that don't generally find their way into pop music — the mundane, the unromantic, the embarrassing.  I wanted to shine a light on those things and remind myself of the magic of everyday life."
  At the record release show on Oct. 22, Folick played through every song included on the album, as well as older fan-favorites such as "Stock Image" and "Give It To Me."
  Audience members piled close together to be near the stage, and nobody left without meeting someone new. Everyone was chatting with one another, comparing favorite songs and expressing just how excited they were to hear Folick's new album.
  Miya Folick took the stage, bringing with her Garet Powell, Josh Menashe and Bryant Fox on drums, saxophone and bass guitar, respectively.
  Folick let her audience know how excited she was to be singing her album for everyone. She wasted no time, grabbed her guitar and sang one of the fast-paced songs from the album, "Stop Talking," which encourages the listener to avoid speaking about "the boy" — a love interest who does not treat the listener as well as they deserve. Each song made the audience dance, even if they didn't notice they were. The melodies and major chords that echoed through the venue could have made anyone's day better.
  Eventually, Folick began singing slower songs, like "Thingamajig." The song's minor chords and almost-screaming high notes brought tears to the eyes of every audience member. The song is about "realizing you were wrong, apologizing, and taking control." The lyrics of the song hit close to home for nearly everyone, because everybody has something they need to apologize for.
  Folick's contemporary background dancers set her apart from other artists. As she sang, whether the songs were fast or slow, dancers Sarah Prinz, Brandon Mathis, Savannah Harrison and Shauna Davis would move about the stage, captivating the audience and bringing visuals to the words that Folick had written. It felt backwards — the artists dancing onstage and the audience swaying slowly, barely moving for fear of missing something — but this experience felt like a breath of fresh air. The audience got a break from everyday life, and the artists were able to present their talents to us.
  Once Folick had finished singing each song off of her album, the audience inhaled in unison, for everyone suddenly remembered that they had forgotten to breathe. It was clear that she poured every piece of her heart and soul into her work. Each song represented a different part of her, and her signature high notes were incorporated into every song on the album. Her music can be differentiated from others simply by the meaning of her songs — her songs about feminism and empowerment — to guitar riffs to vocals. Her one-of-a-kind voice will be remembered by anyone who listens to it.
  During an interview, Folick mentioned that she believes political and societal aspects of the world are responsible for change in the entertainment industry. "I think the "Me Too" movement has forced people to confront some of the fundamental issues present in our culture, but I'm not sure we have figured out how to move forward. If we use the analogy of cleaning your room, I think we're still in that part of the process where you take everything off the shelves and throw it on the floor, but you haven't started putting anything back yet."
  Folick's advice to those who want to pursue music is to "ask a lot of questions.  Don't wait until you feel good enough. Be kind. Surround yourself with good people. If you don't know them yet, go out and find them.  Go to shows. Go to art openings. Go to museums. Talk to people."
  If you haven't yet heard of Miya Folick, you can find her newest album, "Premonitions," as well as all of her singles on Spotify and Apple Music. Listening to even just one song by Miya Folick can make your day ten times better.