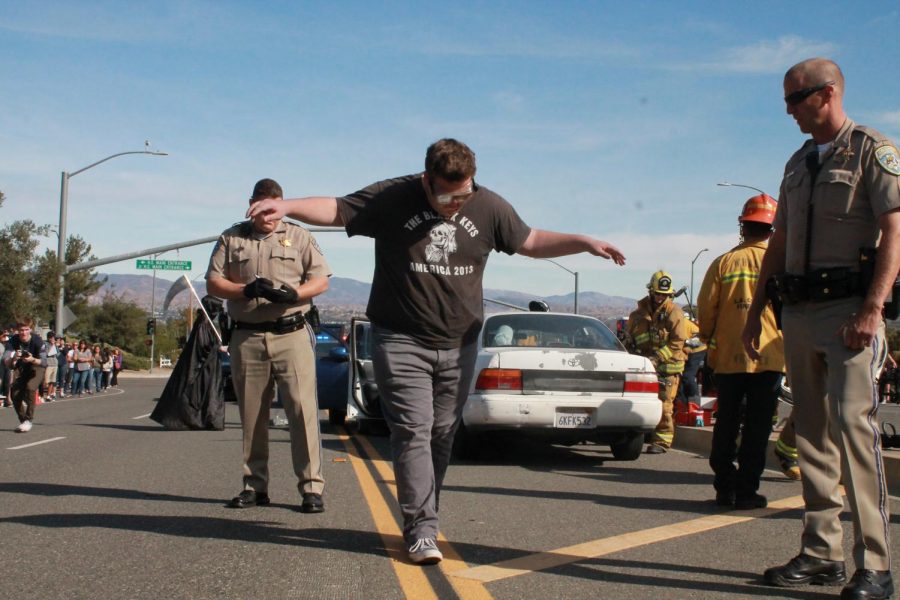 7:25 a.m. The first bells ring across campus. But this is a different kind of sound, one unlike the late bell or the conclusion of another class period. This bell rings, and following it, the face of a fellow student appears on the screen. This is repeated every 15 minutes, interrupting class with a gut wrenching wave of sad songs and alarming interruptions. An announcement pierces the ears of classmates, proclaiming that one of their peers has died tragically in a vehicle-related incident.
   7:25 a.m: Amanda Chevalier, cheerleader and friend to many. 7:40 a.m: Luke Boss, ASB member and hockey player. 7:55 a.m: Rijker Hutson: avid member of the swim team. 8:25 a.m: Emily Bacca, Brandon Wyre. 8:40 a.m: Mrs. Chang. 8:55 a.m: Allison Jacobs, Skijler Hutson, Joshua Constantino. 9:10 a.m: Juan Lopez. 9:25 a.m: Jayden Bagge, Niko Pittman. 9:40 a.m: Matthew Merritt, Matthew Striplin. 9:55 a.m: Chase Eisenberg. 10:10 a.m: James Callahan. 10:35 a.m: Thomas Reid.
   As the day drags on, students mourn the 'loss' of their friends. Those who had passed can be seen wandering the school in skeletal makeup. They do not speak, interact or hang out with their friends. Instead they stand silently, symbolizing their everlasting presence that would remain if they truly had died. Students around campus are crying on shoulders, hugging each other, and growing very emotional as the events seem all too real. Although these deaths are fake, the realization that the consequences of impaired of distracted driving could take anybody sets in quickly across the school.
   11:15 a.m. This time it is not a bell. The ringing of a phone echoes across the school, followed by the frantic voice of a 911 caller.
   A car accident. Valencia Blvd. Hurry.
   Juniors and seniors are released from class to observe the scene. As kids walk towards the tragedy, two cars can be seen. The front of each is completely smashed, and there is a body laying on top of one. There is blood everywhere. There are students inside, people's friends inside, all of whom appear to be dead or dying. Sydney Johnson. Mya Davis.
Lucas Elzer. Izzy Crume. Zoey Greenwald. Hannah Greenwald. All silent and sprawled across the scene.
   The police cars, firetrucks and ambulances race up the hill. All but two occupants are proclaimed dead on the scene. Students watch as the drunk driver engages in sobriety tests while passengers are removed from the vehicles onto stretchers and into body bags. Izzy Crume is rushed into an ambulance while Lucas Elzer is shoved into a police car, handcuffed.
    The following day, upperclassmen attend an assembly in which their classmates return and have a chance to speak on their experiences. Along with their peers, fa
milies, friends, and loved ones of real victims of impaired or distracted driving give emotional and tragic testimonies on the horrific consequences of such careless acts.
   They all shared one underlying plea: Drunk, impaired or distracted driving is preventable. We make the choice to stop ourselves and others from engaging in detrimental acts that could ultimately lead to death. You make the choice. And, if not for yourself, do it for the people you love and the people who love you. Just make the right one.