West Ranch Faculty Follies
   Rockin' dancing. Spit-balling lines. Electrifying music. On March 8, West Ranch High School hosted its very own Faculty Follies show — an event showcasing the West Ranch faculty's range of talents — inside the large gymnasium for $5 per admission ticket.
  "The purpose is to have fun and that students can laugh at their teachers and to raise money for our new Mental Wellness Center that we want to have next year," said teacher Dr. Jessica Jacquez.
   The Mental Wellness Center, which would help provide services on campus for students' mental health, was one of the defining factors that led students to come watch Faculty Follies. Many also went to the event in support of their favorite faculty members who they wished to see perform.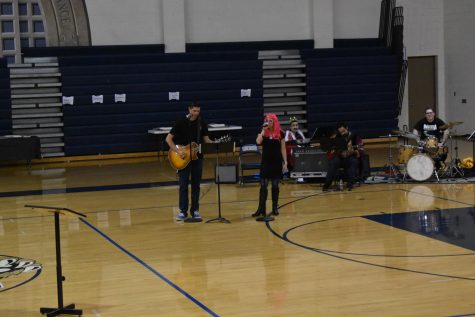 "A lot of my teachers were in it, and they're really amazing. And I wanted to come support them," said junior Phoebe Woods. "I think it's important as us, as a school, to support each other, and I think that it's important to support the Wellness Center."
  All throughout the night, rowdy hoots and hollers quickly filled the brightly-lit gym as the audience cheered on staff members and witnessed a variety of skits and performances — from teachers Shawn Zeringue and Sean O'Brien's parody of Saturday Night Live's "Weekend Update" skit to Leonard Graves and Christine Hirst's simple yet beautiful duet of "Shallow." At one point, even, during the middle of the song, the crowd lit up their phones and swayed left to right, joining in while humming along to the sweet melody.
"
That's what we do. We do it for you, all our students."
— John Dichirico
  Smiles spread across the room as students' jaws dropped and hands clapped, astonished by several of their teachers acting out lines or performing a musical instrument.
  "Mr. T performing was really cool to see because I didn't know he played in a band," said senior Jesselin Quezada.
  Along with Miguel Tenorio, four other teachers — Bret Helm, Leonard Graves, Jason Marshall, John Dichirico — and West Ranch student alumni Tyler Lampman made up the West Ranch faculty band titled the Cool Cats. To get the audience on their feet, the band performed hit songs in between skits such as The White Stripes' "Seven Nation Army," Nirvana's "Smells Like Teen Spirit," and David Bowie and Queen's "Under Pressure."
  "I got to do the splits, got to wear this awesome outfit," said Dichirico, pointing to his white cape and plastic gold crown. "I got to become Freddie Mercury, so what's the better dream?"
  When the event slowly came to a grand finale, all the performers gathered as one in front of the bleachers, laughing happily with one another, and sang along with the crowd one last time to The Monkees' "I'm a Believer." Afterwards, students rushed down to the gymnasium floor, meeting up with faculty members and gushing together over the many exciting performances.
  "I think I liked the 'Dancing With the Stars' skit the most because Mr. Smith and Mrs. Kim did an amazing job," said teacher Darcy Rojas. "They were so funny with their roles and all the people who did the dancing — it was awesome."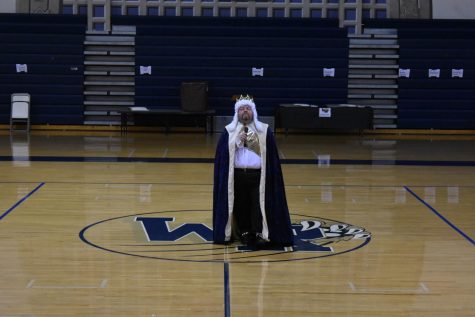 Staff put in hard work and spent long, tiring hours to create Faculty Follies into the spectacular event that it became. In preparation for the 12 skits and performances, West Ranch faculty members had to come in during lunchtimes, open periods, and after school the days before to work on performances, create stage props, and redo edits on their scripts.
 "We had practices. Mrs. Manfredi had us come in for practice, and we went over skits and what we felt would showcase our best side of us," said Jacquez. "Then we practiced and just got ready to prepare and came yesterday here practicing, did a whole runthrough and just getting really motivated and pumped up."
  But despite going through this arduous process, the majority of teachers agreed that the Faculty Follies was worth it not only for the Mental Wellness Center but for their students.
  "That's what we do. We do it for you, all our students," said Dichirico. "We didn't do it for ourselves. I mean, I did it for myself, because I love to perform. Ask my students that. [Laughs] But for you guys, for all of you to come and just watch us do something crazy, do something funny."
  For both the staff and students, the Faculty Follies was an event to remember and to remind themselves of the close, tight-knit community that is West Ranch High School.